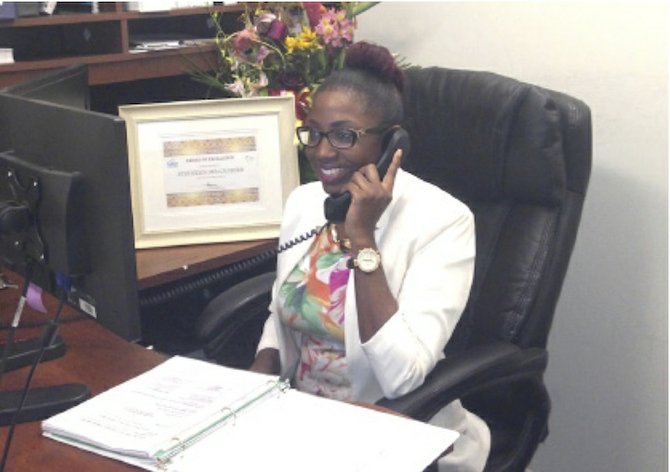 By ALESHA CADET
Tribune Features Writer
acadet@tribunemedia.net
IT IS exciting for Nathalia Gibbs to wake up and go to work every day because no two days are the same. From working with the ground crew to dealing with customer service representatives to ensure that everything is running smoothly, her career in airline operations rarely has a dull moment.
The aviation industry is in her genes. Her father, Nathaniel Gibbs, was an airline pilot and started his own company, Southern Air Charter, so after graduating in 2010 with a Bachelors degree in Aviation Management from Florida Institute of Technology, Nathalia returned home and immediately became associated with the family business.
She became the Assistant Manager of Operations, overseeing the running of the company and interacting daily with the staff, crew and customers. Wearing many hats, Nathalia also works on the administrative and accounting tasks.
"I chose this profession because it was natural for me to stay in the aviation industry," she told Tribune Woman. "I have been heavily involved in the family business since I was a teenager in high school. The airport I can jokingly say is my second home so there was no question when I made a choice of what to take up in college that my degree would be aviation specific. Working in airline operations, there is always a problem that needs to be solved or someone who needs help. There is never a dull moment working for an airline."

Learning how to multi-task efficiently, think quickly on her feet and become well equipped to handle customer service issues are some of the main benefits Nathalia said comes with working in this field.
"You are interacting with many different personalities so you develop a sensitive nature in dealing with everyone because many people interpret things differently. You learn to value other peoples differences and cultures," she said.
Her love for aviation has also open new doors and a world of creative ideas. Last Monday, she opened her own shipping company, LightSpeed Shipping, on Wulff Road, west of Mackey Street.
The company will offer the service of freight forwarding from the United States to Nassau, Eleuthera or Long Island while providing superior customer service. Nathalia has partnered with her family's business, Southern Air Charter, to ensure that LightSpeed Shipping customers get the best rates possible.
She said the idea to start the company was basically an 'aha' moment for her. While purchasing items for a family member in Florida to bring over on her father's aircraft, she got the idea that she could turn this movement into a business. As a single mother, Nathalia said she wanted to provide the best for her son, and that would mean obtaining another form of income.
"I had all the resources at my fingertips, I just needed the plan to set it in motion. It took many months of planning but now LightSpeed Shipping is ready to launch. The goal is to make LightSpeed Shipping the premier one-stop source for all your shipping needs within The Bahamas. Whether you are shipping from the US to Nassau, Eleuthera or Long Island or from Nassau to any of the Family Islands, I want LightSpeed Shipping to be the store that first comes to mind," said Nathalia.
She looks at her parents, Nathaniel and Bethsheba Gibbs, as the biggest influences in her life. She said they started Southern Air Charter in 1998 with one small aircraft providing only on-demand chartered flights and, 16 years later, it has grown to a company that provides scheduled daily flights with larger aircraft.

"Through their sacrifices and savings they were able to grow Southern Air Charter to what it is today without outside investments. Therefore, because I've seen them run a successful company, I am not hesitant with opening my own company," said Nathalia.
For more information on Nathalia and LightSpeed Shipping, contact 242-323-7767 or visit the website www.lightspeedship.com.