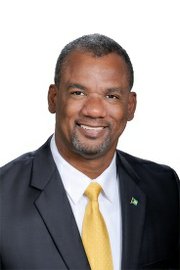 By RASHAD ROLLE
Tribune Staff Reporter
rrolle@tribunemedia.net
STUDENTS of Central Andros High School missed another day of school yesterday as protests continued over the Ministry of Education's decision to transfer a mathematics teacher from the institution to the North Andros High School.
However, Minister of Education Jerome Fitzgerald expressed confidence that students will return to school today following conversations he had with the school's Parent Teacher Association (PTA) president.
Yesterday marked the third day that parents kept students out of school in protest.
Mr Fitzgerald said his ministry will not give in to the requests of angry parents to transfer the teacher back because he is convinced the right course of action has been taken.
"I had a conversation this morning with the PTA president, Mrs Porter and the principal of the school, Mrs Thompson, and it was a very cordial conversation," he said.
"The fact is Central High had 200 students and three math teachers whereas North Andros High had over 400 students with two teachers. I had to improve that ratio to bring it in accordance with ministry standards. I explained the various challenges and that I, as minister, have to make the best decision in light of the advice I got.
"I believe it was reasonable to move a math teacher based on the circumstances. We will work to reorganise the schedule for the school."
Mr Fitzgerald said he appreciated the concern parents had for their children's education, but said it did not "make sense" to keep students out of class.
"I want parents to be engaged. I don't think they handled it the way I would've preferred," he said. "I didn't think it made sense to keep children out of school and so I encourage them to have their kids return as we monitor the situation. I couldn't make any commitment to them, but keeping kids home won't change my position on the matter."
Although the transferring of the mathematics teacher was the last straw for parents, they had other concerns about teacher shortages.
Mr Fitzgerald said it is a problem that many other public schools face.
"I spoke (to the PTA president of the school) about art and music teachers and let her know that if we have them we'd put them there," Mr Fitzgerald said. "We've got about 100 schools in the same position because we don't have people to put in those positions. The ministry has requirements and qualifications people must meet. A lot of people don't have the paper qualification so we can't pay them the salary they would otherwise make since the (Department of) Public Service doesn't recognise them without it."
According to Central Andros High School principal Wanda Thompson, about 14 of the school's 210 students attended classes yesterday.
She said that teachers would be willing to provide extra classes or work to students after they failed to attend school for three days.
Attempts to reach the PTA president for comment yesterday were unsuccessful.