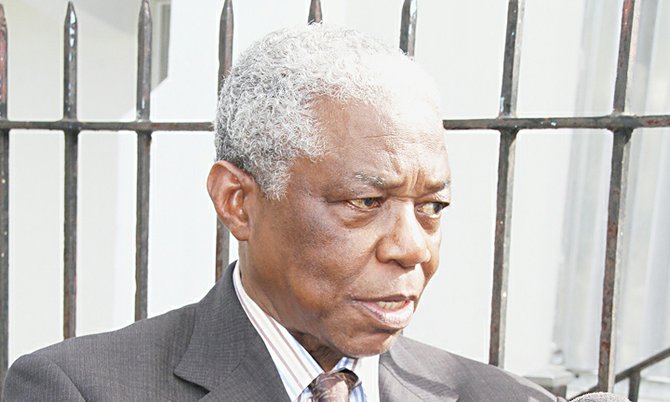 By NICO SCAVELLA
Tribune Staff Reporter
nscavella@tribunemedia.net
NATIONAL Security Minister Dr Bernard Nottage yesterday said the government is giving "consideration" to a "lock down" of notorious crime areas in the capital, but only "to the extent that the law permits it".
However, Dr Nottage said the concept of a lock down is "easier to talk about than to accomplish". He added that a lock down is not the same as a national curfew.
His comments come two days after State National Security Minister Keith Bell told The Tribune that a "lock down" of crime "hot spots" in New Providence is necessary to "turn the tables" on serious criminals in the country.
"Right now, the police force has a programme that is organised that intensifies its activities in particular areas and particular times," Dr Nottage said. "It's not the same as a curfew, but what it (a lock down) means is that the police concentrate on an area and look at the people that come into the area, people who leave the area, go into people's homes where we have reports of illicit activity and checking places where drugs are sold or other illicit activities take place."
Mr Bell on Monday proposed a lock down of certain areas that are known hot beds for crime or neighbourhoods where criminals live and/or operate so that law enforcement is acutely aware of "anything that goes in, anything that wants to come out, and anything that moves within" those areas.
He argued that the government cannot continue to take the same approaches to combatting crime and expect a different result. He said that Bahamian people are to the point where they are prepared to allow law enforcement to take draconian actions rather than allow a "handful of persons to hold us at bay."
Regional crime
Dr Nottage spoke to The Tribune yesterday on the sidelines of the opening ceremony for the Caribbean Basin Security Initiative for Combatting Illicit Trafficking of Small Arms and Light Weapons in the Caribbean.
At the event, Dr Nottage linked "illicit activities" to the "continual influx of guns" being illegally imported into the country, and said the issue called for "more robust surveillance and reconnaissance measures" by governments in the region.
He said that of the 88 murders that have happened in the country this year, 83 per cent of them were committed with firearms.
"We know that the murders are committed primarily with guns, and so it's a very important part of the plan to seek to seize as many guns as we can," he said. "We've got a lot of intelligence information from communities about who has guns. So we're very pleased at the fact that we have that, but the problem is that the guns continue to come in.
"So far this year 253 illegal firearms and 3,500 rounds of ammunition have been confiscated, and we are determined to rid our country of them. The government is determined to maximise our resources in thwarting all efforts to smuggle illegal firearms into our country. This is not a matter that we're going to be able to overcome in a year or even two years. It's a steady investment of resources in the fight against crime, and we're doing that," he added.
US Chargé d'Affaires Lisa Johnson pledged that the United States would aid the Bahamian government in the fight against the importation of illegal firearms which "poses a serious threat to the security and stability of the western hemisphere."
According to Ms Johnson, the Association of Caribbean Commissioners of Police cited the Caribbean region as having 1.6 million physical guns in circulation.