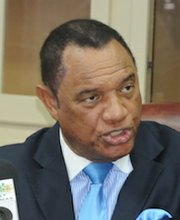 By AVA TURNQUEST
Tribune Chief Reporter
aturnquest@tribunemedia.net
PRIME Minister Perry Christie yesterday suggested that the government might delay its planned reform of the Bahamas Electricity Corporation.
Mr Christie explained that he felt it was best to prioritise management of the corporation's legacy debt. He said the government was considering a firm with such capacity.
"I've intervened for the NAD model," Mr Christie said, referring to the Nassau Airport Development Company, a private firm which manages operations at the Lynden Pindling International Airport.
"What I said was, before I get caught up in all this 'who is the best to generate, who's the best to distribute,' let me just get a management team in there with the capacity to deal with the legacy debt and that's what we're doing now, and I've put a time line until the end of the year."
While Mr Christie said the restructuring process was still in focus, his statements appear to contradict assurances by Deputy Prime Minister Philip "Brave" Davis, minister of works, who this week said the government had set an October date for a finalised short-list of bidders.
"We have our expert team and advisors now visiting sites," Mr Davis told The Tribune this week. "They are viewing the operations and capacities first hand of the short-listed bidders to be able to advise us. Hopefully that will be completed by October 10. Then, once we get those reports, we will decide the way forward."
Last August, Mr Christie announced plans to divide BEC into two separate entities. He said it was envisioned that one company would run the transmission, distribution and customer billing, while another company would offer power generation.
Initially, the government was supposed to select BEC's preferred bidders by November 2013.
In July, a new deadline was set for August 30.
Two weeks ago, Bahamas Electrical Workers Union (BEWU) President Paul Maynard said his union would not support the government as it forged ahead with reforming BEC if the bidding process continued to be secretive.
Mr Maynard said union officials had met with KPMG, the government's advisor for the restructuring process, but added that the meeting only left more questions than answers.
While confirming that no company had been officially chosen to handle BEC's management and distribution, Mr Maynard said the field was narrowed down to three bidders. He said a deadline of sometime before November 1 had been tentatively set.