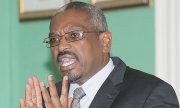 By KHRISNA VIRGIL
Tribune Staff Reporter
kvirgil@tribunemedia.net
FNM Leader Dr Hubert Minnis has raised alarm over a "vexing" problem for motorists who have been unable to register their vehicles due to shortages of license plates at the Department of Road Traffic.
Speaking to The Tribune yesterday, Dr Minnis said it was a "shame" that the government could not keep the equipment used to manufacture license plates in good working condition.
He claimed insufficient license plates have been a "plague" since January because the government has refused to earmark funding to digitise the process.
"This government is just uncaring, unresponsive and indecisive," Dr Minnis said. "Many individuals have complained to me as leader of the opposition that they cannot license their vehicles after they have made great sacrifices to purchase them. Now they cannot utilise the cars because they cannot get licenses because of this incompetent government.
"Look at what they are doing to poor Bahamians who need their cars to get from point A to point B. (What is) most saddening is that mothers who have complained to me that they find it hard to take their children to school, to pick up their children, or to carry out the necessities of daily life like grocery shopping. 
"This is a vexing problem that is causing a lot of stress. Some people have started driving their cars without plates because they need to get around and have been harassed by police. This is the worst government ever because they cannot service the people."
Ben Albury, Bahamas Bus and Truck general manager, said that several times over the past few months his business been adversely affected by the problem. He said license plate shortages have left the car dealership open to liability.
"I haven't had a problem for the past week or so," Mr Albury said yesterday.
"But I can tell you that prior to that, it was just terrible. At one point I had about nine vehicles that I couldn't do anything with because there weren't any plates available.
"When someone gives you a cheque for $30,000 to $50,000 they don't want to hear that they can't get what they paid for. It's a great inconvenience for them.
"Then it's a liability for me to have merchandise parked up on the lot. They can be damaged or stolen by just being here."
Last night, Road Traffic Controller Ross Smith explained that the shortage of license plates was not the fault of his department, but was due to a problem within the Ministry of Works.
He said the Road Traffic Department has been doing all it can to rectify the issue.
He said the department had license plates available yesterday and has been in contact with agencies with surplus license plates, including the Royal Bahamas Police Force and a private car dealership.
He said the department is processing the license plates to make sure they are fit to be reissued to drivers. According to Mr Smith, his department is working feverishly to resolve the issue, however, he said the problem is nothing new and has been an intermittent issue for the last 15 to 20 years.