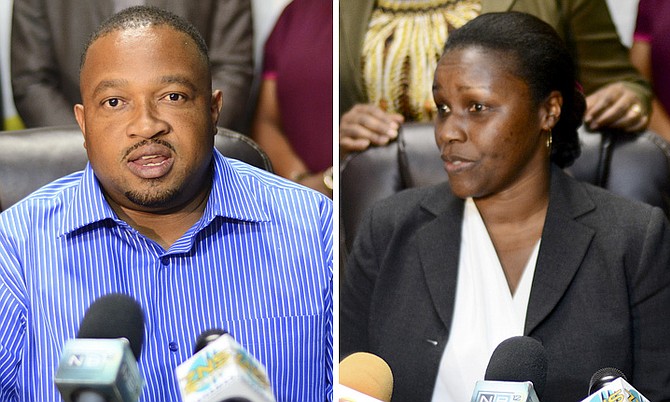 By NICO SCAVELLA
Tribune Staff Reporter
nscavella@tribunemedia.net
TWO Bahamian entrepreneurs yesterday received a $25,000 grant to start their own businesses courtesy of a self-start funding programme from the country's largest web shop operator.
Youlette Etienne, of Vennie's Natural Factory, and Gregory Cooper, of Recycled Waste Products, were yesterday announced as the winning applicants of Island Luck's OWN Bahamas programme. They are two of 10 people who received grants from the initiative.
The initiative offers entrepreneurial opportunities for people lacking the capital or funding to start a business independently.
Along with the $25,000 to start their businesses, both will be afforded an all expense paid trip to visit the Canton Trade Fair in Guangzho, China later this month.
"It's really going to go a long way," Ms Etienne said. "It's been really a struggle to find funding anywhere. So with this and having the opportunity to go to China to learn a lot more is phenomenal. I'm really excited and really appreciative."
"Thank God, I'm overwhelmed for the opportunity to see the world," Mr Cooper said. "I think it's a very good initiative. Moving forward, helping Bahamians to pursue their dreams and help them get a piece of the pie."
Two applicants, including Bahari Clothing line founder Morgan Fernander, were offered $10,000 grants, while the remaining six were offered $5,000 grants.
All winning applicants received one year of free radio and newspaper print ads from a local media house, one year of garbage collection, two years of free Internet and cable service, as well as a two-week training course at the College of The Bahamas.
The applicants also received an incubator mentorship programme by the Bahamas Technical and Vocations Institute for ongoing assistance in business planning, marketing and financial responsibility, as well as graphic designs for logos and marketing collateral.
"Since 2009 our community initiatives at Island Luck have not changed," Island Luck CEO Sebas Bastian said yesterday. "Through programmes such as OWN, we seek to empower Bahamians in every way we can. I'm pleased to announce that the 10 candidates are one step closer to achieving their lifelong dreams and the true results of ownership."
According to Mr Bastian, OWN grants will be given three times a year – in March, July, and October.