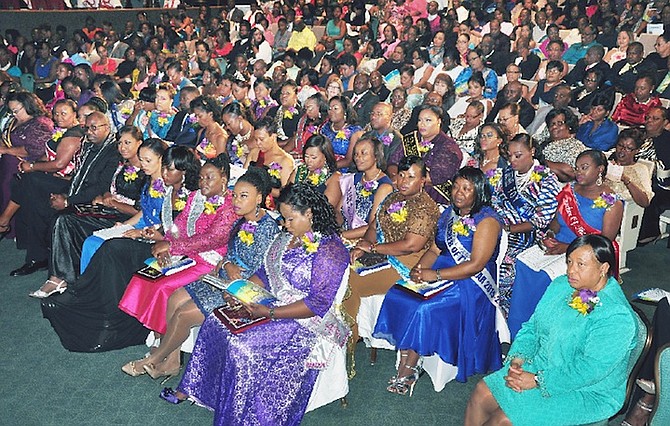 THE best teachers in The Bahamas were celebrated at a ceremony last week - with 47 educators honoured for their exceptional performance.
In a series of events from Wednesday to Saturday last week, the Ministry of Education honoured the work of teachers.
On Saturday, before an audience of hundreds at the Atlantis Theatre, Yonell Justilien, a performing arts educator at the Government High School, was awarded the title of National Teacher of the Year.
Mr Justillien, who has taught for 24 years, said it was a joy for him to be recognised for something he is passionate about, which is teaching and teaching the performing arts.
He encouraged his colleagues to do all that they could for the betterment of their students.
Mr Justilien paid tribute to his fellow nominees and said: "If it was up to me, all of us would have gotten the same prize because all of us share in molding each child that comes our way. It is important for us to keep this drive going and just identify the talents of our kids
"The most important thing we can do is steer them in the right direction so that they can know their calling and purpose in life."
Justillien has himself secured 14 scholarships for his students at tertiary institutions abroad between 2012 and 2013.
He thanked the staff of Government High School, Colors Junkanoo Group, AMBASSAH Band, The Bahamas All Stars Marching Band, the National Teacher of the Year Awards Steering Committee and his family for their love and support. He ended by saying: "I give God the glory for the success that I have experienced throughout the years."
Ramona Wells, of CH Reeves Junior High School, was the first runner-up; Keniqua Burrows of LN Coakley High School was second runner-up and Theresa Turnquest of HO Nash Junior High School, was third runner-up.
The winner and runners-up received cash prizes, hotel reservations, gift certificates, professional development grants and trophies.
District winners from the 11 districts were:
1 Nadia McDermott, Abaco District; 2 Sharon Scott, Eleuthera District;
3 Keniqua Burrows, Exuma and Ragged Island District;
4 Danique Moxey, MICAL District;
5 Stephanie Higgins, East Grand Bahama District;
6 Danicia Dean-Campbell, West Grand Bahama District;
7 Marlene Benwell, North and Central Andros and The Berry Islands District;
8 Trivea Skippings-Culmer, Northeastern District (New Providence);
9 Theresa Turnquest, Northwestern District (New Providence);
10 Ramona Wells, Southeastern District (New Providence) and
11 Yonell Justillien, Southwestern District (New Providence).
The nominees received prizes for special awards in particular categories.
Theresa Turnquest, of HO Nash Junior High School, won the prize for Best Video. Audra Tynes, of RM Bailey Senior High School, won the prize for Outstanding Contributions to Education. Ms Tynes has published two books, 'In Times Like These' and 'Givin' Em Somethin' to Think About' that are on the reading list for high school students.
The prize for Professional Development Activities went to Samantha Wilson, of Gerald Cash Primary School. Tarinda Thompson-Rolle, of CR Walker Senior High School, received the prize for Teaching Proficiency, while Arnold Martin, of Jack Hayward Junior High School in Grand Bahama, took the prize for Outstanding Contributions to the Community on a Family Island. Mr Martin is the founding president of the Men of Honor Association, an intervention programme for boys; Men of Honor Mountaineers Basketball Programme; More Than Just a Dream Project; School Lunch Box Programme and has authored the book 'The Long Road To…'.
This year, a husband and wife - Sherado Gibson and his Anishka Gibson were both vying for the title.