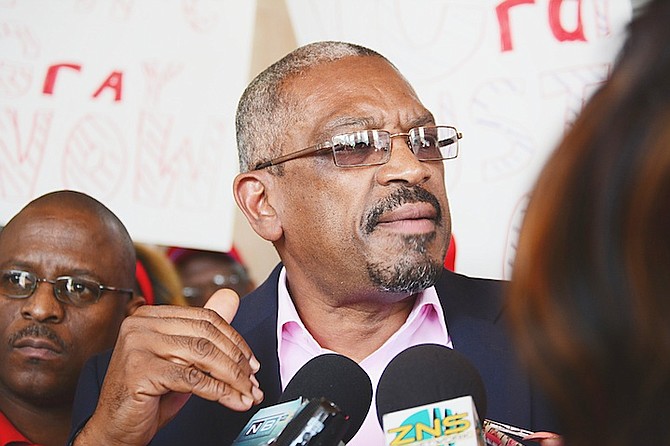 By AVA TURNQUEST
Tribune Chief Reporter
aturnquest@tribunemedia.net
FREE National Movement Leader Dr Hubert Minnis yesterday hinted that his party was working to expose another high-level politician in the Christie-led administration.
Dr Minnis suggested that the party's investigation of the unnamed official was nearly complete, and that the revelation would be made in similar style of allegations against Minister of Agriculture V Alfred Gray and the insurance scandal at the Bahamas Agriculture and Marine Science Institute (BAMSI).
He remained tight-lipped over further details, but said the FNM's campaign for a change in governance has been well received in the Family Islands.
"We are in a delivery process," he said. "We are in twin delivery. Mr Christie tried to do a half birth, but this is delivery that we are going to follow through. The first delivery is Gray, the second delivery is the deputy prime minister, and there is movement for possibly a third delivery.
"That's not going to be an easy delivery, we might have to deliver that one. But that one will come even if we have to do a caesarean (section)."
The Killarney MP's threat comes as the police continue their probe into Mr Gray's alleged interference in the court case of a resident from his Mayaguana constituency.
In the House of Assembly last week, Dr Minnis said the investigation was the direct result of the Official Opposition's efforts to expose "alleged troubling abuse of power and unconstitutionality" on the part of Mr Gray, whose ministerial portfolio included local government.
The FNM accused Mr Gray of abusing his power after he contacted Administrator Zephaniah Newbold nearly two weeks ago about a 19-year-old convicted in Mayaguana and sentenced to three months in prison.
Mr Gray's local government portfolio has been transferred to Financial Services Minister Hope Strachan pending the outcome of the police investigation.
Yesterday, Dr Minnis claimed that the controversy surrounding Mr Gray would not distract the party or the wider public from the continuing BAMSI controversy.
In February, Deputy Prime Minister Philip "Brave" Davis said, during a House of Assembly session, that the BAMSI dormitory damaged by fire in January had contractor's all-risk insurance. At that time, he explained that the policy had lapsed because the contractor had not paid for an extension when completion ran out of time.
However, he later admitted to parliamentarians that the building was never insured, adding that he did not know this until he reviewed the contractor's file on March 2.
The FNM subsequently accused Mr Davis of misleading the House and demanded his immediate resignation.
Arnold Forbes, Minister of State for Works, told The Tribune last week that Ministry of Works had determined that all of the other buildings at BAMSI are insured.
Meanwhile Dr Minnis said his party is gaining traction throughout the country.
"We were in Exuma recently, the response is excellent. As we move through the community and have our town meetings, we would give residents a little insight of where we want to take the country. We ask them: do you think you are better off today than yesterday, and they all said 'no', and if they are ready for change and their response is 'yes'.
"They are ready for honesty, transparency, and accountability."