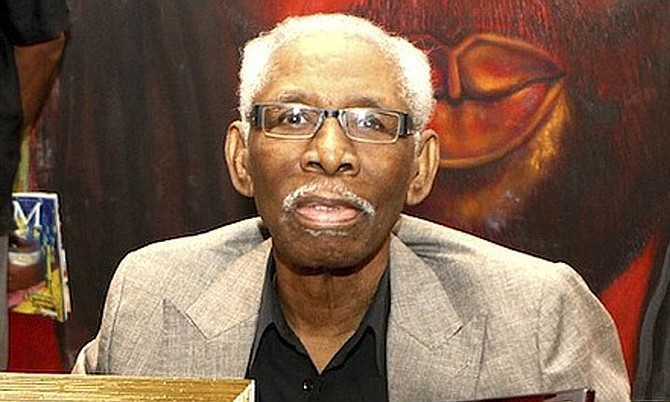 By SANCHESKA BROWN
Tribune Staff Reporter
sbrown@tribunemedia.net
BAHAMIAN music legend Ronnie Butler yesterday criticised some Bahamian artists for attempting to "overcharge" the government to perform at Bahamas Junkanoo Carnival.
Although he is listed as one of the official performers for the event, Mr Butler also told this newspaper he had "no idea" he was performing at the inaugural festival until he was contacted by friends and family who saw the announcement in The Tribune.
He admitted that the government contacted him "months ago" and asked him to perform at one of the events, but he said he has not heard from anyone since. He said until he gets a contract and is paid, he does not consider himself to be a part of the event.
Mr Butler's comments came after the Bahamas National Festival Commission announced that Trinidadian Soca singer Machel Montano will close out the Music Masters Concert.
On Monday, a source on the commission said the foreign singer reportedly will be paid $100,000 and that Baha Men, this country's Grammy award winning band will be paid $60,000.
However, a statement released by the commission yesterday refuted this.
The commission said the base rate for musicians is approximately $300 an hour per performer or band member. "While the BNFC is being guided by established market values, we also appreciate the need to build value within our own artistic community and are acting accordingly. That is why the guest artists for the Music Masters Concert, Machel Montano and Baha Men are being paid comparable rates, unlike the incorrect information reported in the press. Neither artist is being paid $100,000," the statement said.
Meanwhile, Mr Butler told The Tribune while he has not been "confirmed" to perform at the festival, his conscience would not allow him to overcharge the government once a contract is hammered out.
"They spoke to me a few months ago, but no one has gotten back to me. How could they say I am performing if I have no contract, since I have no money and no contract? That means I am not performing. If they get back to me with a contract and my money of course I will perform. It makes no sense for a foreigner (to) come make money and I don't make any," he said.
"In terms of payment, what I asked for was fair. You have to understand that this money is the Bahamian people's money. We worked for that, this isn't the government's money, this is mine and yours and I will not participate in this overcharging thing. I want a decent payment for what I am due but I do not feel like I am going overboard. The problem is, some of these artists hear about the $9 million (budget) for carnival and they want their big piece of that, when most of them have never seen more than $2,000. There is nothing wrong with asking for what you think you deserve, but you cannot overcharge. That just is not right. My conscience will not allow me to ask for $50,000 to sing two songs – that's like robbery."
According to the commission, Mr Butler, Baha Men, Visage, and Julien Believe are scheduled to perform during the May 7-9 peak of the Junkanoo Carnival season. Bahamian artists T- Connection and Jay Mitchell will play at carnival events in Grand Bahama.
Trinidadian artists Machel Montano and Bunji Garlin are also set to perform.
According to the Festival Commission, a top group out of Haiti will also be performing during Junkanoo Carnival.
The government initially budgeted $9m for the festival.
In January, festival organisers said they had spent about $1.5 million on the event up to that point.
Yesterday the commission said it has invested over half a million dollars directly in Bahamian musicians over the past year.