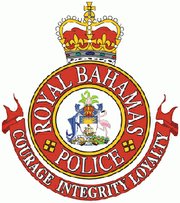 By DENISE MAYCOCK
Tribune Freeport Reporter
dmaycock@tribunemedia.net
FAMILIES for Justice Founder Rev Glenroy Bethel is calling for the removal of the Police Staff Association (PSA) executive chairman Dwight Smith, who is accused of indecently exposing himself to a female officer.
Mr Bethel has written a formal letter to the Governor General calling for Inspector Smith's removal from his post, which he continues to hold after being charged in court and interdicted from the Police Force. Inspector Smith has pleaded not guilty to the charge of indecent asault, which allegedly occurred in December 2013.
He believes Inspector Smith's removal would be in the best interest of the public. He added that him remaining on as PSA chairman would send a wrong message. 
"A crusade has been arranged by our organisation in order to have Inspector Dwight Smith step down or removed as chairman of the Police Staff Association in New Providence and in Grand Bahama," he said during a press conference on Wednesday.
Rev Bethel's stance echoes that of State National Security Minister Keith Bell, who last week described the PSA as a "political tool" in the Senate when referring to the case and suggesting the organisation disrepected senior police executives.
Rev Bethel said Inspector Smith was formally arraigned before a court and interdicted by the Commissioner of Police, Ellison Greenslade.
In his letter to the Governor General, Rev Bethel outlined several important reasons why Inspector Smith should voluntarily resign or be forced to resign as PSA chairman.
He noted that approval for Inspector Smith's interdiction was given by the Governor General under the Police Act. "While he is Interdicted, he still remains under the disciplinary action of the Royal Bahamas Police Force," he said.
Rev Bethel wrote that if Inspector Smith remains as chairman of the PSA his position in office would create a conflict of interest to the alleged criminal offence he faces.    
And he said that Inspector Smith should be made to resign in the best interest of the public. "Our men and women who serve the public must serve with integrity and, the message must be clear to the public that  no one is above the law. If he is allowed to lead the Police Staff Association while a criminal charge is pending against him, it would send the wrong message to  our communities.
"Therefore, we call upon Her Excellency Dame Marguerite Pindling, Governor General of the Commonwealth of the Bahamas, under Chapter 205 of the Police Act, for the resignation or removal of Inspector Dwight Smith as chairman of the Police Staff Association out of office until the conclusion of Inspector Smith's trial," Rev Bethel said.