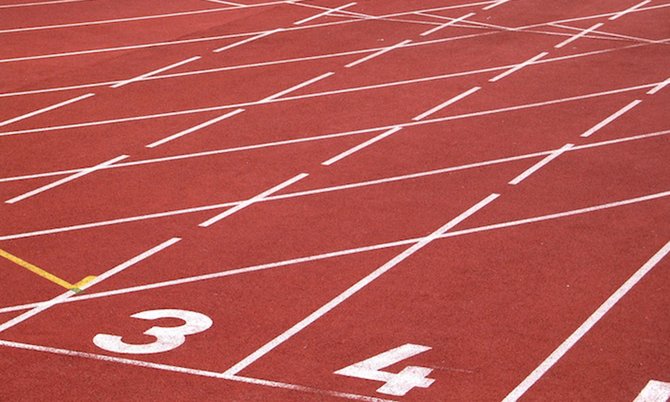 By BRENT STUBBS
Senior Sports Reporter
bstubbs@tribunemedia.net
WITH a smaller team, the Bahamas regained its second place behind powerhouse Jamaica as the Silver Jubilee CARIFTA Games came to a close last night in St Kitts and Nevis.
In a complete turn around from last year, the Bahamas' 53-member team, led by the double gold-medal performances from jumper Charisma Taylor and Grand Bahamian middle distance runner Shaquania Dorsett, unofficially collected a total of 31 medals, inclusive of eight gold, 13 silver and 10 bronze to surpass last year's dismal showing of seventh place with 19 medals, including just one gold.
The Bahamas also got a pair of individual medals from Eleuthera native Keianna Albury in the under-20 girls sprints, Grand Bahamian Brianna Bethel in the under-18 girls sprints and Dannielle Gibson in the under-20 girls jumps.
Jamaica once again dominated the four-day meet with 85 medals (41 gold, 25 silver, 19 bronze), while Barbados trailed the Bahamas in third with 16 medals (7 gold, 4 silver, 5 bronze). Trinidad & Tobago earned 22 (6 gold, 8 silver, 8 bronze), but there was a protest lodged in one of the relays which could change the outcome when the official results are released. Grenada rounded out the top five with eight (1 gold, 3 silver and 4 bronze). Host St Kitts and Nevis was sixth with nine (1 gold, 2 silver, 6 bronze).
The lone gold last year in Martinique came from the under-18 boys 4 x100m relay. Over the weekend, the Bahamas didn't win a gold medal in the relay, but they got either a silver or bronze in all of the relays except for the under-18 girls 4 x 100m and the under-20 girls 4 x 400m.
As expected, the competitors in the field events performed exceptionally well, splitting the eight medals with the track athletes while adding three of the silver medals and four of the bronze medals. The BAAA was impressed with the efforts of the coaches and the field athletes who rallied to make sure that they attained the qualifying standards in order to compete. The BAAA had promised to only take those athletes who did the qualifying performances for the individual events.
But in some cases, one or two athletes who were added to the relay pool took advantage of their opportunity to compete in an individual event.
The team, managed by Doris Rolle-Ramsey and coached by John Ingraham, is scheduled to return home today.
Gold medallists
Charisma Taylor, under-18 girls triple jump, 12.01m (39-5)
Charisma Taylor, under-18 girls long jump, 5.93m (19-5 1/2)
Shaquania Dorsett, under-20 girls 400m, 53.40 secs
Javan Martin, under-18 boys 100m, 10.41 secs
Tamar Green, under-18 boys triple jump, 15.21m (49-11)
Shaquania Dorsett, under-20 girls 800m, 2:11.99
Tavonte Mott, under-17 boys 110m hurdles, 13.1 secs (hand time)
Deondre Rutherford, under-18 boys discus, 47.41m (155-6)
Silver medallists
Danielle Gibson, under-20 girls long jump, 5.99m (19-8)
Keianna Albury, under-20 girls 100m, 11.64 secs
Denzel Pratt, under-20 boys javelin, 66.48m (218-11)
LaQuan Nairn, under-20 boys high jump
Brianna Bethel, under-18 girls 200m, 23.47 secs
Javan Martin, under-18 boys 200m, 21.16
Justin Pinder, under-20 boys 800m, 1:52.59
Xavier Coakley, under-20 boys 110m hurdles, 13.51 secs
Girls under-20 4 x 100m relay -Jerinique Brookes, Jenae Ambrose, Alexis Gray and Keianna Albury, 45.59
Boys under-20 4 x 100m relay - Xavier Coakley, Tyler Bowe, Ken Russell and Stephen Green, 40.41
Girls under-18 4 x 400m relay - Doneisha Anderson, Britni Fountain, Brianne Bethel and D'Nia Freeman, 3:40.58
Boys under-20 4 x 400m relay, 3:12.33
Bronze medallists
Serena Brown, under-18 girls discus, 44.20m (145-0)
Danielle Gibson, under-20 girls triple jump, 13.05m (42-9 3/4)
Drexel Maycock, under-20 boys discus, 51.14m (167-9)
LaQuell Harris under-18 girls shot put, 14.54m (47-81/2)
Henry DeLuze, under-20 boys 400m, 47.19 secs
Brinna Bethel, under-17 girls 100m, 11.49 secs
Jenae Ambrose, under-20 girls 100m, 11.74 secs
Keianna Albury, under-20 girls 200m, 23.49
Boys under-18 4 x 100m relay - Jonathon Smith, Javan Martin, Kaze Poitier and Donovan Storr, 41.77
Boys under-18 4 x 400m relay - Bradley Dormeus, Kaze Poitier, Byron Wilson and Donovan Storr, 3:18.12
• Here's a look at the top 10 countries in the final medal table:
Jamaica - 41 gold, 25 silver, 19 bronze
Bahamas - 8 gold, 13 silver, 10 bronze
Barbados - 7 gold, 4 silver, 5 bronze
T&T - 6 gold, 8 silver, 8 bronze
Grenada - 1 gold, 3 silver, 4 bronze
St Kitts and Nevis - 1 gold, 2 silver, 6 bronze
Suriname - 1 gold, 1 silver, 0 bronze
Guadeloupe - 0 gold, 2 silver, 3 bronze
British Virgin Islands - 0 gold, 2 silver, 1 bronze
Bermuda - 0 gold, 1 silver, 2 bronze