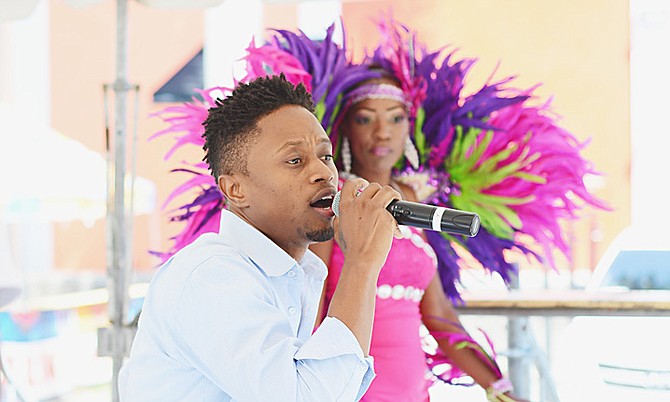 By FARRAH JOHNSON
MINISTER of Youth, Sports and Culture Daniel Johnson joined in the 'Park and Party' fun last week as Radio House hosted another ambitious and successful charity fundraising event on Shirley Street.
A four-hour Bahamian concert, which featured young talents Angelique Sabrina, Dyson Knight, Julien Believe, Wendi Lewis, Sonovia Pierre, Colin MacDonald, Q-Pid and Exec, on a stage in the Butler & Sands parking lot was broadcast live on 100Jamz, Kiss96 FM and Y98 FM on Thursday.
It was also a broadcasting first: never before in the Bahamas had a live concert had been streamed live on more than one radio station simultaneously.
The community event, which saw Radio House staff members take to the streets to raise funds for the Police Force Dependents Trust, was dubbed "a huge success" by JJ Mckenzie, Director of Promotions and Online Marketing at Radio House and host of the 100Jamz Midday Juice show.
"We wanted to celebrate our incredibly talented young Bahamian artists and count down to the Bahamas Junkanoo Carnival," she said. "Julien Believe premiered his new single Live & Wine, featuring international Soca artist Bunji Garlan, and Sonovia, Colin, Dyson and Angelique performed their songs off the Bahamas Junkanoo Carnival CD that have made it to the Music Masters finals."
The event, sponsored by Fresh Entertainment - who with C Cube Seating provided the special stage - and Kalik, also kicked off the 'Fresh Evolution' weekend, and had Bahamian Junkanoo Carnival costumes showcased by members of the Bahamas National Festival Commission and the Vindi Dynasty Carnival Group.
"A special thanks to Crispin Cleare and Fresh Ent, C Cube Seating, Queswell Ferguson from Kalik and Burns House, all of our artists who performed and all of our amazing listeners who always support us," said Ms Mckenzie. "But, most importantly, to our entire Radio House staff who helped to make this our most successful event to date."
All those who attended the Park and Party were treated to Kalik beer specials, prizes and giveaways. Popeye from Candies Enterprises served fresh tropical conch salad.