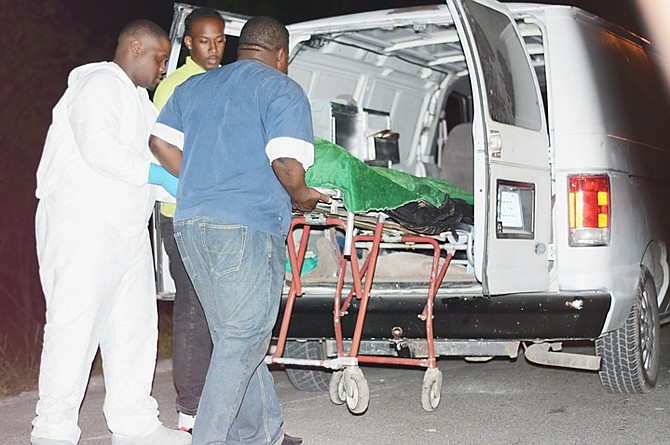 By DENISE MAYCOCK
and TANEKA THOMPSON
dmaycock@tribunemedia.net
THREE men were killed in separate incidents yesterday - one in Grand Bahama - bringing the year's murder toll to 41 for the year, according to The Tribune's records.
The two latest murders occurred last night, less than an hour apart.
Shortly before 9.30pm, police were called to the scene of a shooting at Graham Drive in Yellow Elder Gardens, where a male was found dead in his car.
While police were processing that scene, they were alerted to reports around 10pm that a man was stabbed at Roberts Drive in Nassau Village. Police believe that killing stemmed from a domestic dispute between a man and his juvenile nephew who was arrested shortly after the incident.
Chief Superintendent Paul Rolle said when police arrived in Yellow Elder, officers found a 24-year-old man sitting in the driver's seat of his 1997 Honda Prelude, with gunshot wounds to his body.
EMS pronounced him dead on the scene.
"Our preliminary information is that this male was sitting in his vehicle when he was accosted by we believe at least one male, who discharged shots into his vehicle, fatally wounding him," Chief Supt Rolle said at the crime scene in Yellow Elder Gardens.
"While here on this scene, police, we also received reports of a stabbing incident in the Roberts Drive (area in) Nassau Village, off Alexandria Blvd. Information there is that a young man and a relative became involved in an argument. The younger, who we believe is a juvenile, took a knife and stabbed his uncle to the chest, fatally wounding him to the chest."
The juvenile was arrested, Chief Supt Rolle said.
Meanwhile, police in Grand Bahama are investigating the early morning homicide of a man in Freeport.
A young man was stabbed to death, pushing the homicide count for the year to five in Grand Bahama.
The unidentified victim, believed to be in his 20s or 30s, was taken to the Rand Memorial Hospital, where he was pronounced dead.

No arrest has been made and police are investigating the matter.
According to Inspector Terecita Pinder, police were called shortly before 4am to an area on Adventurers Way, commonly known as the ghetto.
When officers arrived at the scene, she said they found a man suffering from apparent stab wounds in his chest. The victim was taken by EMS personnel to the hospital.
Inspector Pinder said police are appealing to the public or anyone with information that can assist them with their investigation to call 242-350-3107/8, 911/919 or the nearest police station.
The murder comes after three men were killed – one in Long Island – in three separate incidents over a three-day period.
Retired 88-year-old Canadian doctor Harry Geoffrey Harding was stabbed to death during a home invasion at Clarence Town, Long Island on Thursday sending shock waves throughout the peaceful island settlement.
A 43-year-old male resident of Long Island has been arrested in connection with this incident and is expected to face court charges today.
Police are also investigating the deaths of Harry Gardiner and Mark Daniels Jr, both 21.
Gardiner, who was out on bail, was murdered on Friday night while playing a game of dominoes on First Street in Coconut Grove.
Daniels was shot dead while walking near Dumping Ground Corner on Saturday. He was recently released on bail for an indictable offence. He was also wearing an ankle-monitoring bracelet, police confirmed.