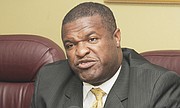 By KHRISNA VIRGIL
Tribune Staff Reporter
kvirgil@tribunemedia.net
BAHAMAS Christian Council President Rev Dr Ranford Patterson yesterday said he doubts that the government can successfully roll out National Health Insurance by January 2016, insisting that the Christie administration needed to advise Bahamians on how the health care scheme will be funded.
Speaking to The Tribune yesterday, Rev Patterson said while he agreed there was a need for NHI, he could not support the imposition of additional taxes on Bahamians who are already financially strained.
Recently, Costa Rican consulting firm Sanigest Internacional met with a group of religious leaders, including Rev Patterson to make a case for NHI.
However, Rev Patterson said those government-hired consultants were not able to give a definite figure of what taxpayers will spend to have the scheme implemented.
Sanigest's report to the government on NHI, obtained by The Tribune last month, said it could cost as much as $633 million if implemented as a comprehensive package.
Rev Patterson said: "First of all we are all in favour of NHI. It is important and we need it. I believe NHI is past due.

"But the Christian Council is concerned that with the implementation of NHI that the (health) facilities currently in place will not be sufficient. The cost is another thing. How is this going to impact the bottom line with people who are already struggling financially?

"Religious leaders see first hand the plight of many Bahamians, especially the elderly who don't have insurance and have to resort to cookouts to survive.
"Whether or not the government can fund this is another story. But one thing is for sure and that is the Bahamian people are going to have to foot the cost."
When asked if he believed NHI could be implemented in 2016, Rev Patterson said: "They (are) talking about January coming… I don't see it. But the position is precarious because you see the need for it but people are stretched and people are hurting. They can't afford it."
There has been fierce debate over the implementation of NHI with criticism from some observers that the proposed January roll out is ambitious.
The Free National Movement has also expressed concern about the possibility of a new tax being imposed to cover NHI.
Last month, Prime Minister Perry Christie said he was amazed by the direction of the debate surrounding NHI, adding that the government had not yet decided on whether it would introduce a new tax to pay for it.
Progressive Liberal Party MP Leslie Miller has also predicted that when the scheme comes on stream, private health insurers will layoff employees as they see their profit margins affected.
In Sanigest's report, which was handed over to the government last October, the firm explored the feasibility of NHI and presented options for financing universal health care.
According to the report, the consultants suggested a payroll tax ranging from one per cent to five per cent to finance NHI.
The report further explored an array of revenue-raising options, including levying a "sin tax" on alcohol and tobacco.
Another option identified was a tax on auto insurance premiums.
The government has maintained that there are too many Bahamians who die because they cannot afford health care.