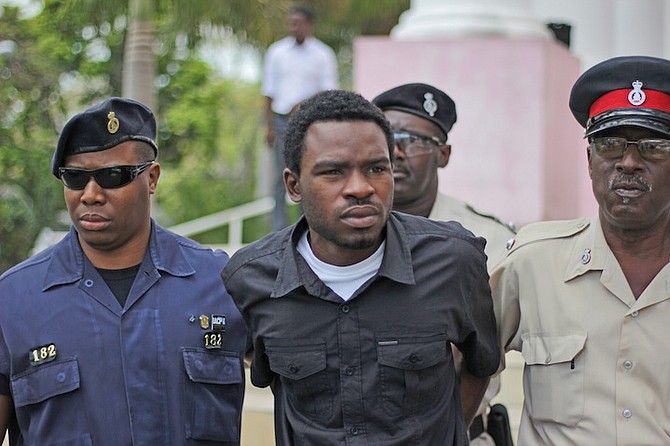 By LAMECH JOHNSON
Tribune Staff Reporter
ljohnson@tribunemedia.net
A MAN faces up to three years imprisonment if convicted at trial of aggravated assault concerning an alleged incident that was videotaped and shared on social media.
Brent McPhee, 27, of Oleander Street appeared before Magistrate Samuel McKinney facing a charge of assault with a deadly weapon and threats of death allegedly committed on April 4. The victim is Arthur Buchanan.
While the latter charge is considered a misdemeanour and can warrant imprisonment for one month, the aggravated assault charge carries up to three years imprisonment.
It is claimed that McPhee intentionally assaulted Mr Buchanan with a knife and further threatened to kill him.
McPhee pleaded not guilty to both offences and opted to be tried in Magistrate's Court.
On the question of bail, police prosecutor Sgt Audrey Deveaux said she was objecting to a bond for the accused on the basis that the Central Detective Unit was still investigating him and were expecting to bring additional charges and suspects to court concerning the matter.
She added that McPhee would likely interfere with the ongoing investigation.
The prosecutor also said she did not know if the accused had any prior convictions.
McPhee informed the court that his lawyer Ian Cargill was supposed to appear on his behalf.
When the lawyer appeared and was briefed on the issue, Mr Cargill said there was no grievous harm or attempted murder charges stemming from the video that has already been viewed by a large number of persons.
He said there was no reason his client could not be granted bail and be electronically monitored ahead of trial.
Magistrate McKinney replied that with recent amendments to the Bail Act, he is compelled to defer the question of bail.
He set a bail hearing for April 15 and remanded McPhee to the Department of Correctional Services until that time.