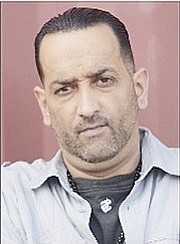 By Inigo 'Naughty' Zenicazelaya
SOME of my fondest memories growing up were listening to major league baseball with my grandfather K M Thompson - yes, the same one of the I Need A Laundry, Lions Club (founder and charter president) and Hobby Horse Hall thoroughbred fame (he had a stable full of champions).
Yes, I said - "listen to". Not trying to date myself, but there was a time during my childhood unlike today's "millennials" that there was no instant gratification of ESPN or the Internet with live scores and updates from your favourite professional sports arenas.
No sir!
There was TV, whatever ABC, CBS or NBC aired on their south Florida affiliates, or radio. That was it. The dailies, local and foreign, were always a day late with their minuscule, back page box scores.
I grew up on the likes of Howard Cosell, Vin Scully, Joe Buck, Phill Rizzuto, Harry Carey, Pat Summerall and Brent Musburger to name a few.
Masterfully creating theatre of the mind as they vividly described every play with perfect timing, descriptions and emotions, you hung on the edge of your chair for every play, in anticipation of the next.
When I didn't catch them on TV, I caught them on radio, broadcasting the game of the week from MLB, the NBA or NFL .
Many weekends I would catch a three-game series on the radio Friday night and then Saturday and Sunday afternoons.
Yankee games were always on WIOD out of Miami, with former Yankee great, second baseman Phil Rizzuto, on the play-by-play. Perfect choice for the job.
A rich Yankee history, combined with that New York, Italian American wit and bravado. He was a force in the broadcast booth.
My grandfather was a huge Yankee fan. Me? I'm the kind that likes to root for the underdog.
Once such underdog was the Kansas City Royals. With the likes of George Brett, Frank White, Hal McRae, Willie Wilson, Brett Saberhagen and Dan Quisenberry, they could hardly be considered underdogs; those are some Hall of Fame names right there.
However versus the free spending, big market New York Yankees, there was that exception, which didn't seem to phase those Royals teams a bit.
They carried the Yankees to two gruelling, nail-biting seven-game American League Chamlpionship Series in 1977 and 1978 before breaking through in 1980 to win the ALCS, advancing to the World Series where they lost to Pete Rose and the Philadelphia Phillies in six games.
Finally in 1985 they won it all, coming from a 3-1 deficit to beat their former manager Whitey Herzog and the cross state St Louis Cardinals.
Yes, the 1985 "I -70" World Series was marred in controversy. Sadly my dear grandfather wouldn't get to see it: he passed away three days before the series started.
However you can't tell me that when umpire Don Dekinger called Jorge Orta safe when he was clearly out (I have just openly admitted Orta was out on that play after 30 years. For the record. History in the making.) that good old K M wasn't pulling some strings with the Big Man upstairs!
The Royals won game seven the night of his funeral 11-0 by the way.
Fast forward to 2014. Signs of life are shown in Kansas City.
Despite what seems to be an eternity in purgatory for the Royals, they made an unexpected trip to the World Series after 29 years, upsetting several big market teams and falling in seven games to an equally impressive San Fransisco Giants squad.
Most experts considered this Royals showing to be a pleasant surprise, more of a mirage, rather than a team trending upward. I beg to differ. Manager Ned Yost has put his signature on this team.
The Royals pitching rotation is young, strong and the bullpen is deep and lethal.
The Royals create runs when they have to with good old fashioned baseball plays. Stolen bases, sacrifice flies, bunts etc.
Then they make timely defensive plays to keep their opposition honest.
Yost has them playing for themselves, to heck with the naysayers. They are playing "Small Ball" and its working. They are proud of their identity as a team.
If last year's impressive run to the World Series wasn't enough the Royals are off to a 7-0 start this season having swept the White Sox and Angels. So the Big Market teams had better watch out!
The gap is closing and paying gargantuan contracts to big stars despite the long term effects on the franchise (see Yankees, Red Sox and Dodgers) appears to be a thing of the past. Winning with talent, strategy and affordable players may be the recipe for future success in baseball.
If this is the case, the Royals may have a head start on the competition as they have had to play that way for years, not being able to compete money-wise with the juggernauts like the aforementioned Yankees, Red Sox and Dodgers.
Get used to names like Moustakas, Cain, Gordon, Escobar, Holland, Ventura and Perez - they seemed poised to add more jewels to the Royals' crown.
Barring injury or another "strike" which could happen in baseball at anytime, I like these Kansas City Royals to be a force of the future, starting with this year's World Series.
I like them to return and finish what they started last year against the Giants. I'm going to enjoy watching this Royals run (no matter the outcome) with my sons.
Sharing stories about their great grandfather and the Royals of the past, I just don't know if I should share the George Brett hemorrhoid story though?!

Now I'm off, I vaguely remember my George Brett jersey and rookie card being somewhere in the attic.
If you see no column from me next week, check my attic - I'm stuck!!
Until next week, keeping swinging a big stick and may all your balls be fair.