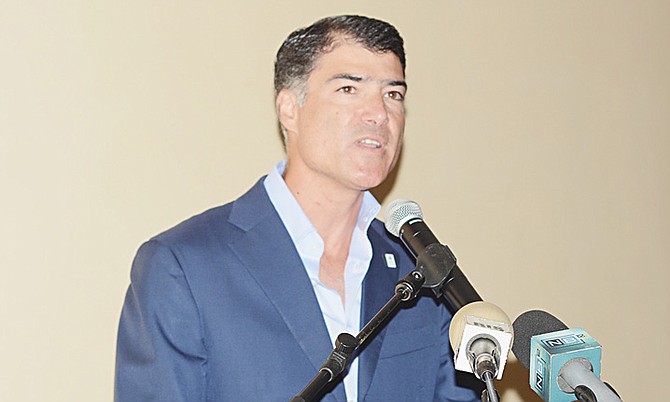 By SANCHESKA BROWN
Tribune Staff Reporter
sbrown@tribunemedia.net
BAHA Mar CEO Sarkis Izmirlian criticised the government yesterday for its "unfulfilled promises" and suggested the Christie administration seek "outside help" on crime prevention and education for the country to succeed.
Addressing a Chamber of Commerce summit at Baha Mar's Melia resort, Mr Izmirlian said he is concerned about a "number of promises important to the future of the Bahamas" that have "not come to fruition."
"All of us must be concerned about the unfulfilled promise of improvement in the reliable supply of power and the reduced costs of power, we all should be concerned about the gap in necessary education and training programmes that would allow workers to be better prepared for jobs, and we all should be concerned that growth incentive commitments are not viewed as reliable," he said.
Reduced electricity costs and a pledge to double the investment in education and training were among the pre-election campaign promises of the Progressive Liberal Party. The government has also promised to reform the Bahamas Electricity Corporation, as the utility provider struggles to provide steady power supply to New Providence. However, this process has dragged on considerably with no final announcement from the prime minister despite an initial pledge to have contracts signed by the end of 2013.
"In short, all of us here today need this nation to truly position itself to attract the crucial investments necessary to grow, expand business, and create the necessary financial reward and incentives for the young Bahamians who will graduate from schools over the years to come," Mr Izmirlian said. "Let us not kid ourselves if we think that today we are competitive versus countries like Dubai or Singapore."
Mr Izmirlian said that although he "strongly believes that Baha Mar" will enable The Bahamas to be able to compete with the best tourism destination in the world, the $3.5 billion property "in and of itself cannot solve the ills of this country."
"I can assure you this, there are not that many Sarkis Izmirlians or Sol Kerzners (formerly of Atlantis) out there who would be willing to invest in the Bahamas as we have," he said.
"We must position this country to succeed for decades to come and we need help. We need to bring in, and listen to, the best minds in education, crime prevention, and government to help us steer through and make us the Singapore of the Caribbean. And by the way, bringing outside help is not bad – it is smart and value added. It is as simple as going to the right person for the right advice at the right time. If you had to get a triple bypass surgery would you go to someone who does one a month or the person who does multiple per day? We should not simply wrap ourselves in the Bahamian flag to protect old habits. Let us wrap the future in the Bahamian flag and give our children the future they deserve."
Mr Izmirlian said the "esteemed leaders of our community" must pause and reflect on the future of the Bahamas and ask themselves: "Where do we go from here?"