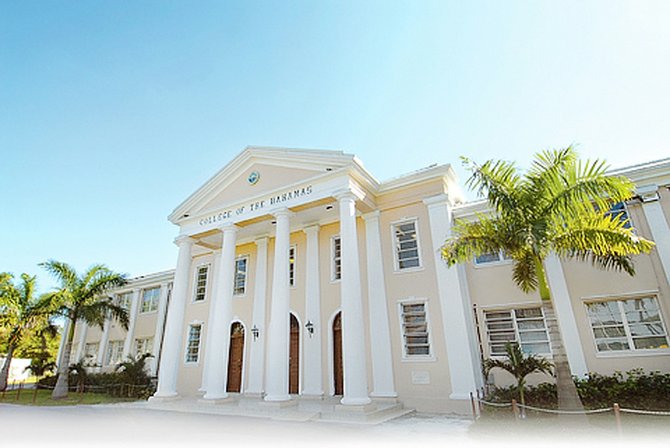 By RICARDO WELLS
Tribune Staff Reporter
rwells@tribunemedia.net
A PROPOSAL to "substantially" increase tuition fees at the College of The Bahamas is on its way to Cabinet following an approval vote by the institution's Council earlier this week.
President of the Union of Tertiary Educators of the Bahamas (UTEB), Mark Humes, has confirmed to The Tribune that the College Council had passed a proposal geared towards increasing fees for the next fall semester.
According to reports the proposal will seek to increase tuition fees for lower level courses by 50 per cent and 33 per cent with respect to upper level courses.
Presently, lower level courses - courses taken by students in their freshman and sophomore years - are charged at a rate of $100 per credit.
The proposed increase would move that rate to $150 per credit, bringing the average cost for for a lower level course to $450 exclusive of Value Added Tax (VAT).
In terms those courses are taken by students in their junior and senior years - upper level courses - fees will reflect an increase from $150 per credit to $200 per credit.
The 33 per cent fee increase will move the average cost of an upper level course from $450 to $600. 
Mr Humes said that the "ill-timed" hike in fees was rejected at the council level by both his union and the College Bahamas Union of Students (COBUS). However, approving votes were put forward by all other member of COB's Council.
"Everyone is hurting," Mr Humes said. He understands that the College is having financial issues due to recent budget cuts in education but he said laying the burden at the feet of the students was not the best choice.
"We understand that at some point fees have to increase, particularly due to the institution's transition into university status. Despite that, we indicated that at this time, increasing fees would only hinder students currently registering for courses," he said.
"Students are still having a hard time adjusting to the addition of VAT charges to their bills and now to come back one semester later and implement another increase, it's just bad timing."
The Tribune spoke to a number of COB students, many of whom were shocked and distraught by the idea that their dreams of a tertiary level education may come at an even higher price.
A 24-year-old biochemistry senior said she was saddened by the reports of an increase, adding that despite being one semester away from graduating, she knows how difficult it is to secure funds for tuition.
"I feel bad, it is already hard for many of us," she said. "This will make it impossible for a lot of persons already struggling with tuition to remain in school. It was hard for me to reach this point."
One first-year education student said: "I am still adjusting to VAT on my bills, now you are adding more to that. All this means is that a college education is going to be out of the reach of a lot of students leaving high school. If that is the case, then it would be a complete slap in the face to education in the country.
"Every day you hear businesses calling for more skilled workers. The one place you should be able to go to improve your skills is being priced out of our reach."
A recent COB graduate returning to apply for a copy of her transcript said "any increase would be a disservice to everyone, there are still any no improvements in the quality of service delivered at COB. This is a disgrace. Everything is still the same but the fees are going up."
Last month College Council Chairman Alfred Sears said that there were no "immediate plans" to increase tuition fees as COB transitioned into a university.
However, at the time, Mr Sears said that the option was not "completely off the table", as officials must ensure salaries of faculty and staff remain competitive.
The college's transition process has been costed at around $16m. According to the Summary Budget Analysis of the 2014 fiscal year, COB earned a combined $20m in revenue through tuition, fees, sales and services.