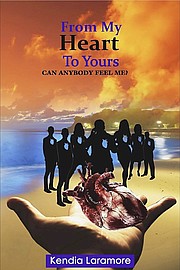 By JEFFARAH GIBSON
Tribune Features Writer
jgibson@tribunemedia.net
BAHAMIAN author and poet Kendia Laramore bares all about being sexually abused as a child on several occasions and the emotional aftermath she experienced well into her adult life as a result.

"From My Heart to Yours: Can Anybody Feel Me?" became a healing tool and means for her to become free from the ghost of her past. She tells in great detail the ordeal surrounding the sexual abuse she experienced in her ealy teens.
One of the first incidents took place when Kendia was 13. An extended member of her family, with whom she had a "relationship of sorts" molested her.
"He was the cousin of my stepfather. He took me to his room and, as usual, we were making out, but only kissing. Then he laid me down on his bed and started to take off my pants; this was something he had never tried before. I asked him why and he told me he just wanted our skin to touch because my skin was soft. I didn't see the danger, nor at that time did I understand the danger of that," she told Tribune Woman.
"At this point - and I can remember and still see it as clear as if it was just yesterday - I was lying there afraid, anxious almost and very, very nervous. But something about this started to feel wrong. I jumped up and screamed; at this point he pulled me back to him and put his hands over my mouth and told me not to say anything to anyone if I liked him and if I wanted him to still talk to me. I was scared, in pain and afraid," she said.
Kendia's sexual abuse did not end there.
"At 14 there was the incident with my stepfather that I explain in depth in an autobiography that comes out this Fall. Then there was my uncle, one of my biological father's brothers. At the time my parents were separated but I was allowed to visit my dad on weekends. He lived with my grandmother, so it was during most of those visits when my uncle would come home. I am going to assume after a night of partying, he was drunk and then he would have sex with me.
"The first time it happened I was asleep, but felt a pressure on me and when I woke up and realised what was happening, I did not move. But I always smelled alcohol on him every single time that it happened," she said.
Not only does Kendia discuss the molestation that she suffered in the book, but also a love relationship that came to an end.
All of those events, including the emotional trauma from the abuse and the end of her relationship, left her very hurt and distraught.
Instead of turning to someone, Kendia confided in her diary and began to heal with every word she wrote.
"I kept several diaries and in those diaries I bled my heart out. I expose the men that did this to me and in doing so I have isolated my family and people with whom I have had decade-long friendships. But what mattered to me after years of protecting the ones that hurt was now me.
"I needed to let go and heal. In loving me I had to lose those that obviously cared about themselves more than they did my emotional wellbeing," she said.
"It feels good to finally be free of that burden. Writing has always been my biggest aid for healing but after my break up I forgot about writing, I forgot about God, I forgot about everything rational; the only thing I had was the childhood memories and the pain of that break up.
"I was swimming in a sea of misery, depression, self-loathing; every negative and downward spiralling emotion or thought you could think of, I was going through it. I considered suicide numerous times until a very good friend of mine reminded me that God was the author of all things. She reminded me that writing was the talent he gave me for that very moment he already knew was coming; writing saved my life," she said.
"From My Heart to Yours: Can Anybody Feel Me", which was released last Wednesday, and the autobiography to follow are the hardest words Kendia said she has ever penned.
"It's my intent that by sharing my story, that the parents who are perhaps too busy to pay extra attention to their son or daughter would be aware that negligence is costly. I want to implore them to pay attention, ask questions, build a relationship with their children at a young age so that their child can feel comfortable enough to come to them and not be afraid to tell them if something they feel or believe is wrong happened to them.
"Parents need to do this so that they don't miss that frown or that sadness that can so visibly be seen on a child's face, or even in their eyes when they are hurting," she said.
From My Heart to Yours: Can Anybody Feel Me? is available as an ebook on Amazon.com.