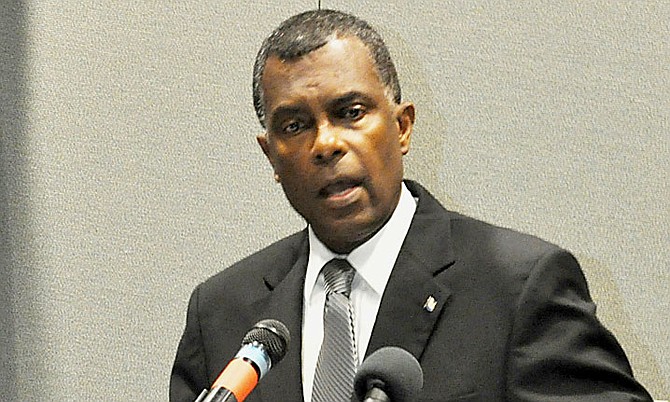 By KHRISNA VIRGIL
Tribune Staff Reporter
kvirgil@tribunemedia.net
IMMIGRATION Minister Fred Mitchell said yesterday that this country has had a recent "deluge" of illegal migrants that will cost the government more than $83,000 to repatriate.
One of the latest interceptions happened last Wednesday night in Bimini where the Royal Bahamas Defence Force captured 168 people – 103 men, 28 women and 37 children – some of them being "babes in arms."
Mr Mitchell said the children were not being housed at the Detention Centre, but at a safe house.
A group of Haitians were also repatriated on Monday at a cost of $16,000.
"Two additional flights are being arranged," Mr Mitchell said in the House of Assembly. "We have to use a foreign carrier because the Bahamasair jet does not have the navigation aids to fly into Port-au-Prince without a waiver from the civil aviation authorities.
"Those flights will take 145 people each at a cost of $67,265. This excludes the cost of housing 16 officers in Miami and their return transport to Nassau.
"I bring this to the attention of the country to show that this continues to be a vexing, consistent and expensive issue.
"Instead of spending that money on docks, on roads, on airports, we have to spend it trying to send illegal migrants back home. We are trying to break the back of a continuing criminal enterprise. Increasingly there are reports of small boats leaving this country taking illegal migrants into the United States. This then is a national security issue. This country should not be a staging ground for illegal activity."
Up to press time, there were 318 people being held at the Detention Centre. Of that number, Mr Mitchell said, 285 are Haitian. There are 30 migrants in the safe house – 20 are children and 10 are adults.
He said the government was continuing its work with countries in the region with a view to stopping illegal migration and bringing it under control.