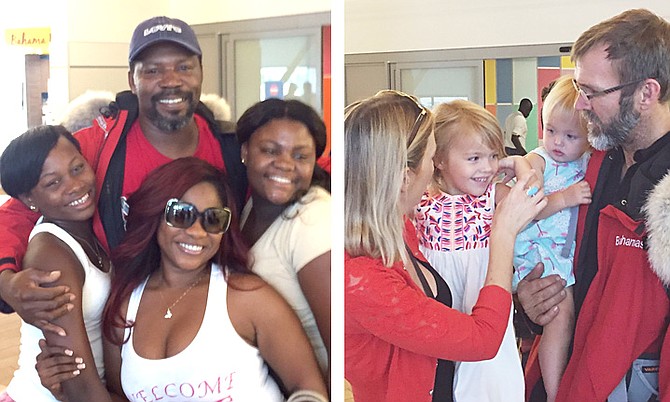 By RICARDO WELLS
Tribune Staff Reporter
rwells@tribunemedia.net
MARK Roberts and Shaune Adderley have finally arrived home to warm weather and a warm reception from family, friends and colleagues after the Bahamian pair trekked to the North Pole and proudly planted the Bahamian flag there.
Their homecoming on Wednesday marked the end of a four-month adventure in which the two "warmth-loving Bahamians" became official North Pole explorers. With four experienced team members they skied across 100 miles of shifting Arctic ice to reach the "top of the world" last Thursday.
Back in Nassau yesterday, Mr Roberts said it was an "amazing feeling" seeing family and friends after the "long, life-changing ordeal", adding that the pair felt "blessed" to have had the opportunity to set out and survive a journey only few men dare to take.
"We are feeling very pleased to have made it to the North Pole and taken the (Bahamian) flag to the top of the world. It is very exciting and was a very proud moment," the owner of FYP Builders Mall said.
The North Pole quest is rated as one of the top 20 toughest challenges in the world. Mr Roberts, 48, and Mr Adderley, who is president of construction and development at FYP Builders Mall, became the second and third Bahamians to achieve the feat. Tavares Strachan, a Nassau-born, New York-based artist, completed the first successful expedition to the North Pole by a Bahamian in 2013 when he retraced the inaugural 1909 steps of Americans Robert Peary and Matthew Henson.
Mr Roberts and Mr Adderley, the 40-year-old leader of the Genesis Junkanoo Group, were part of a six-member team which comprised New Zealanders Mark Chapple, Julian McPike, Joann McPike and Alex McPike. They had spent three months training in the Bahamas, acclimatising in an industrial freezer unit and building their fitness for the demanding trek, before flying to the Arctic on April 7.
After returning to the Barneo Russian polar camp from the pole, the Bahamians endured a dangerous and frustrating wait to fly home. On Sunday they had to be rescued out on the ice cap and on Monday severe blizzards prevented any air traffic from operating. A Facebook post on Bahamas North Pole Explorers said they were homesick and "desperate" to get back to the Bahamas.
The weather relented on Tuesday and they left Barneo in sunshine on an Antonov 74 for the two and a half hour flight back to Longyearbyen, Spitzbergen, the closest town to the North Pole.
They had two hours to repack and shower before boarding a four hour 20 minute flight to London, where they caught their long connection to Nassau, finally touching down on home soil at 3.45pm on Wednesday.
"Dese polar bears are so glad to be back home," they posted yesterday.
See the Weekend section centre spread today for a pictorial North Pole Diary