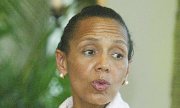 By NICO SCAVELLA
Tribune Staff Reporter
nscavella@tribunemedia.net
THE government's Swift Justice initiative is producing more convictions than not guilty verdicts in Supreme Court trials, Attorney General Allyson Maynard-Gibson said yesterday.
Mrs Maynard-Gibson said as of last month, 53 per cent of Supreme Court trials resulted in guilty verdicts, compared to 47 per cent of trials resulting in not guilty verdicts.
Mrs Maynard-Gibson made her statements during the morning session of the Senate.

After she revealed the statistics, however, FNM Senator Carl Bethel stood on a point of order and criticised Mrs Maynard-Gibson for her statement, which he said, suggested that her office was "tampering with or seeking to intimidate the judiciary."
Mrs Maynard-Gibson said: "The Swift Justice initiative, the hard working Bahamian stakeholders are producing results. The system is working. We continue to maintain an outcome of more guilty verdicts than not guilty verdicts.
"As of March, year-to-date, March 31, there were 53 per cent guilty verdicts compared to 47 per cent not guilty verdicts. (We are) moving in the right direction."
However, Mr Bethel subsequently said Mrs Maynard-Gibson was "falling into the same error which led to trenchant criticism the last time (in the first Christie administration), during the first iteration of her Swift Justice initiative."
He added: "When the executive starts to track convictions and touts them as (indications) of success of a policy initiative, that verges to the extent in my humble view and that of a former chief justice, to the executive tampering with or seeking to intimidate the judiciary.
"That was a matter that was publicly stated before. It is improper for the leader of government business in this place, and attorney general, to stand in this place and tout conviction numbers as being indicia of success. What is important is that we have trials and that they are completed, whether with a conviction or an acquittal. But to tout, 'Oh we have 53 per cent convictions' is not an appropriate way to judge the success otherwise of the programme, and it has been specifically criticised by the judiciary before."
Mr Bethel said: "I urge the leader on the other side not to go down that pathway."
However, Mrs Maynard-Gibson defended her information, arguing that the data presented was "something that the public is entitled to know."
"Based upon information that is gathered in the Office of the Attorney General, I am indicating to the public that these are the outcomes of trials in which they occurred. And I am also drawing to the honourable leader on the other side's attention to something that he knows, I believe he knows this, that if you go in the website of the Crown prosecution service in the United Kingdom, you will find the outcome of their efforts.
"And Mr Vice-President and through you to fellow senators and members of the public who are listening, we in this place have on so many occasions spoken of accountability and transparency. Go on the website of the Office of the Attorney General right now, you will find the bails that we did last week and that we will do next week, you will find the arraignments of the past and are coming up, you will find the trials that we will be appearing in, and you will find the Court of Appeal hearing that we will be appearing in.
"And it is my humble belief that the people whom we serve are entitled to know what we do. Now they themselves can collate and track all of the outcomes of the trials that are on the website."
In January, Mrs Maynard-Gibson said Supreme Court criminal trials yielded a 54 per cent conviction rate in 2014 while murder and related offences yielded a 57 per cent conviction rate against a 43 per cent acquittal rate.
She added that the number of cases disposed of by the Supreme Court had increased from 118 in 2012, when Swift Justice was reintroduced, to 200 in 2014.
In February Mrs Maynard-Gibson said no bail had been granted for the year in any murder or murder-related case. She also announced that of the 425 bail applications for murder or murder-related matters in 2014, only 33 were granted.
She added that with ten criminal courts up and running, the target for the disposal of criminal cases is 350, or 75 per cent more than last year.