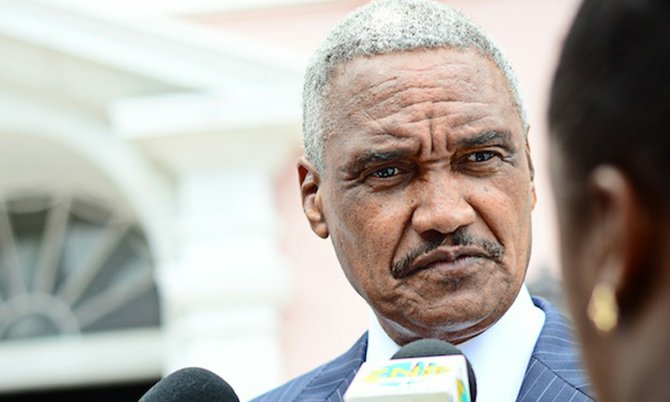 By SANCHESKA BROWN
Tribune Staff Reporter
sbrown@tribunemedia.net
BUSINESS owners and residents in New Providence expressed their fury at the Bahamas Electricity Corporation's inability to provide a steady power supply as BEC's Executive Chairman Leslie Miller said yesterday "there is nothing else" officials can do to prevent power cuts over the next few days.
The power cuts, which continued all day yesterday in parts of New Providence, forced some businesses to shut down for the day on Monday, with reports of closures on Bay Street and in the Palmdale area.
However, Mr Miller urged customers to "bear with BEC" during this "very serious crisis".
He said while BEC was able to restore electricity to most customers on Monday evening, the corporation was only able to meet demand at midnight, when most businesses had shut down.
His statements came after thousands of residents were left without power, some for more than five hours on Monday after engine failures at both the Blue Hills and Clifton Pier stations. Unfortunately, Mr Miller said BEC would not be able to meet demand until the rental generators arrive in Nassau.
He also indicated in a television interview on NB12 last night that some homes would have to go without power to ensure the World Relays event at the weekend would have electricity, saying "we cannot have an embarrassment with an international event of this calibre".
A statement released by BEC yesterday said temporary generator units supplied by Aggreko, an international company, should be installed and operational within the next four weeks. An initial five megawatts of Aggreko temporary units should be on island within the next few days, the statement added.
"In the interim BEC expects that there may be periods of supply interruption if customer demand exceeds BEC's existing capacity," BEC said. "The corporation assures the public that it continues to do what it can to limit the duration of supply interruptions and the amount of customers impacted. BEC requests its customers' patience as it makes every effort to ensure that present challenges do not persist into and throughout the summer."
However, affected residents and business owners said the power cuts have affected their cash flow and everyday routines.
A hair salon owner in Palmdale, who did not want to be named, said she lost hundreds of dollars in clients due to the load shedding.
"The power went out around 1pm (Monday) and never came back on. We had to turn away customers because we had no power and even worse there were some customers that began getting their services and had to leave half done. It is a disgrace and it is a disservice to business owners. Who is going to give me the money I lost? Something has to happen."
Some angry residents took to social media websites to vent their frustration on the power cuts.
One person said: "Getting a haircut was a challenge because the power was going off so frequently, many barbers did not want to start cutting your hair and the power goes off in the middle of it. Seems like many people chose the food court in the mall to escape the sizzling heat and find something to eat as many people chose not to cook when current keeps going off."
Another said: "The power went off from around 3 pm (Monday). That's after being off from noon on Saturday until 5.30 Sunday morning. So we went out and came back to find three of the four goldfish floating...dead. These fish are four and five years old and value between $300 and $500 each. Explaining it to children ain't easy. But we couldn't help but wonder how the hospitals and other care facilities make it when power cuts are so frequent and so long."
BEC has maintained the power grid is strained because of unusually high temperatures this month, leading people to use more electricity.
"We are still about 20 megawatts short," Mr Miller said yesterday. "We are also attempting to fix one of the generators at Clifton, but the part we need costs $400,000 and will not be here until about another six weeks. We have problems all around. The summer heat started much sooner than anticipated.
"At peak last year we were at 220 megawatts but now we are already up 215 and the summer has not even started yet. We are in trouble, between a rock and a hard place and there is nothing we can do about the situation. When it isn't one thing it's the next."
BEC said Monday's power cuts began after an electrical fault developed on its transmission system.
"This resulted in a shutdown of engines at the Blue Hills Power Station," BEC said. "A protective mechanism on the transmission line was initiated that allowed Clifton Pier's generators to remain up and running and providing electricity to approximately 40 per cent of the island."
While power was reconnected in stages across the island, full power was not supplied until midnight.
BEC said an investigation is underway to correct the problems that caused the transmission fault.