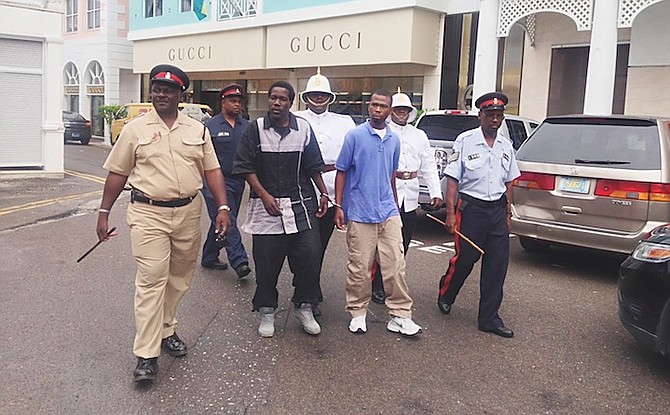 By LAMECH JOHNSON
Tribune Staff Reporter
ljohnson@tribunemedia.net
A MAN who did not return to court for the completion of his trial into the fatal stabbing of a CV Bethel student was unanimously acquitted of murder yesterday.
Kendario Bain, for whom Senior Justice Stephen Isaacs issued a warrant of arrest when he failed to appear on Tuesday, was found not guilty of the February 21, 2008 murder of 17-year-old Jamil Wilchcombe. However Bain and a second defendant were found guilty of the lesser charge of manslaughter.
In 2008, Wilchcombe's brother, then 16-year-old Lee-Sanchez Dormeus, had left school to go to a nearby barbershop on East Street South when a young man attempted to take his cellular phone. This led to a fight between the two when two other young men joined in to attack Mr Dormeus.
Mr Dormeus' 17-year-old brother, Jamil, tried to intervene on his sibling's behalf, but was fatally stabbed in the chest.
It was alleged that Bain, along with Owen McKenzie, had intentionally caused the death of Wilchcombe, which was rejected by the jury as the pair was unanimously acquitted.
However, the jury had considered and returned unanimous guilty verdicts for both men on the charge of manslaughter.
McKenzie's lawyer Michael Kemp objected to the manslaughter verdict, arguing that two individuals together cannot commit an accidental killing. The judge said there was logic to his submission and asked if he had any case authorities to support the argument.
Mr Kemp said he would require time to produce the case authorities but wished to argue the matter.
Senior Justice Isaacs said the issue will be resolved at a hearing on June 6 prior to sentencing of McKenzie and Donald Nottage on the remaining charges of which they were found guilty.
Bain, McKenzie and Nottage were convicted of causing harm to Dormeus, and Nottage was found guilty of the attempted robbery of Dormeus' Verizon Z3 GSM cellular phone.
Nottage's lawyer Wallace Rolle and Mr Kemp asked for probation reports to be prepared to assist the court in sentencing. Roger Thompson prosecuted the case.