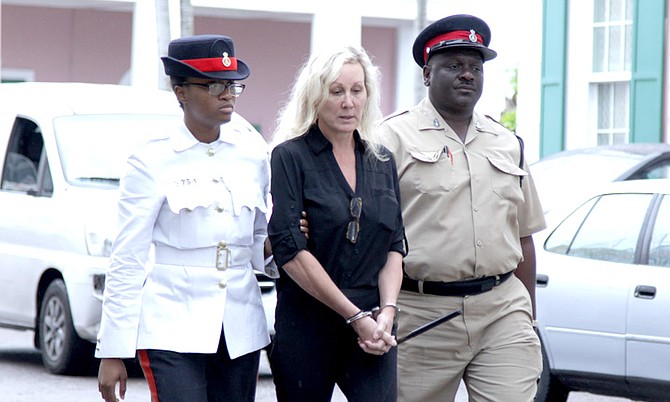 By LAMECH JOHNSON
Tribune Staff Reporter
ljohnson@tribunemedia.net
DONNA Vasyli will learn on Friday whether a judge will approve her renewed application for bail and if so, what conditions he will impose to ensure her return for trial into the fatal stabbing of her husband, Australian podiatrist, Phillip Vasyli.
Her appearance before Senior Justice Stephen Isaacs for a bail hearing yesterday afternoon was the result of Court of Appeal judges remitting the matter back to the judge after determining that he did not explicitly give his reasons for denying bail and had not considered conditions that might have alleviated concerns that she would abscond if released on a bond.
In three weeks, Vasyli is scheduled to reappear in Magistrates Court to be served with the Crown's case against her concerning the March 24 fatal stabbing of her husband at their Old Fort Bay home.
The voluntary bill of indictment presentation would fast track her case to the Supreme Court for trial.
However, the Australian widow appeared before Senior Justice Isaacs yesterday hoping the judge would rule differently on her request for pre-trial release.
Her lawyer, Murrio Ducille, referred the judge to his client's affidavit, which was made in response to the affidavit of Sgt Barry Smith, which alleged her to be a flight risk.
The applicant, Mr Ducille said, "is saying I did not kill my husband or had a fight with my husband."
"The marks on the upper side of my hand were from laser treatments I received on March 17, 2015 by Dr Rochelle Knowles," the lawyer added, referring to his client's affidavit.
It was put to her by police that she stabbed her husband but she denied doing so.
Mr Ducille also noted that his client has lived in The Bahamas with her children since 1995 when she received a certificate of permanent residence.
She has since resided at her home, which is held in a trust. Vasyli does not deny having a home in Australia or a relative in Florida. However, she denies having any other properties in other jurisdictions.
The lawyer referred to the case of Cuban-Americans Daniel Ayo and Luis Mendez, who were released on $50,000 bail for the 2010 murder of Jamaican Clive Tomlinson in Bimini.
The Court of Appeal approved the decision to grant bail for Ayo and Mendez after a challenge by the prosecution.
Mr Ducille argued that unlike the pair who were involved in a crime within 48 hours of visiting The Bahamas and still got bail, Vasyli has "substantial ties to the jurisdiction."
And while acknowledging that there were medical conditions that facilitated their pre-trial release, he noted that his client had hypertension and hypothyroidism and would be better served receiving treatment outside of prison.
He said that the concession by the Crown at the first hearing that the evidence was scant was another factor in his client's favour and was surprised that the prosecutor still maintained his objection to bail notwithstanding the weakness of the case.
The lawyer said if the court was still not convinced that she was not a flight risk, "the Australian government, if requested, will cancel the appellant's passport and put her on a stop list."
Mr Ducille said his client was willing, of her own volition, to be placed under electronic monitoring and 24-hour house arrest, among other conditions.
In response, prosecutor Neil Braithwaite said: "There's been a lot said about scanty evidence, but we do not accept that the evidence, which will be produced at trial, is weak.
"The nature of the case is clear. We accept that it's a circumstantial case but there's nothing scanty about it," the prosecutor added.
Mr Braithwaite said the court should consider that the penalty for the charge of murder is severe and plays a factor in the possibility of the applicant absconding.
He noted that there was no dispute that she does have access to means and that her own admission of having a relative based in Florida underscored the Crown's objection to bail.
Regarding the medical evidence, the prosecutor said that the medical staff at Department of Correctional Services was more than capable of administering treatment to the applicant whose condition did not appear to be severe and her conditions were not sufficient for the court to exercise its discretion to grant bail.
The prosecutor concluded that the proposed conditions from the defence amounted to nothing more than "promises" and that not having a passport is not a hindrance to a person fleeing the jurisdiction.
Senior Justice Isaacs will give his written ruling on the issue on Friday, May 1 at noon.