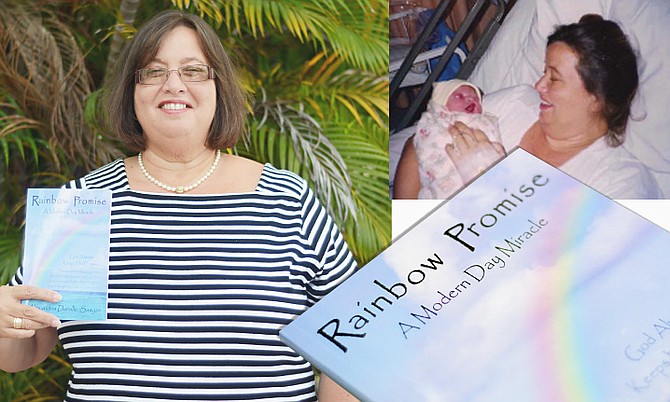 By CARA BETHEL
cbrennen@tribunemedia.net
AFTER 12 years of trying to conceive a child as she battled various health challenges, Alexandria Darville-Sawyer and her husband Thomas received a miracle when they finally welcomed their daughter Shelby into the world.
Now, in an intensely personal and candid book entitled "Rainbow Promise – A Modern Day Miracle", Alexandria recalls their long and arduous struggle, and how God fulfilled His promise that they would one day become parents.
Today, the Sawyer family lives in Green Turtle Cay, Abaco, where daughter Shelby is an honour roll eighth grade student and the light of her parents' life.
"It took me about three years to write the book. I always knew that I wanted to tell my story, but this was just the right time," said Alexandria, who holds a Bachelor of Arts in Psychology and has taught at the Amy Roberts Primary School for the past 25 years.
"I just felt that this was when God wanted me to tell it. I really hope that it will inspire others and give them hope as well."
Alexandria explained that when she and Thomas got married in 1988, they were still young and in no hurry to start a family. As time went by, however, they found themselves longing for a child. But years passed with no results.
"I was praying the entire time that I would get pregnant, and then my health started to get worse," she said.
In her book, she writes that Mother's Day and Father's Day became increasingly difficult to live through.
"People would say things like, 'I hope next year I can wish you a Happy Mother's Day'. Or, 'I hope I can wish Thomas a Happy Father's Day next year.' I knew they weren't being cruel. They genuinely wished for us to have family and for us to feel fulfilled and happy," she said. "However, it still leaves you feeling less than a woman or man. It's not a good feeling at all. You feel as if you're missing out on so many things. You're the odd couple out."
Alexandria said she began fervently praying to God for a child.
It was during a revival at the appropriately named Miracle Church of God in Green Turtle Cay in 1996 that a visiting pastor from Nassau prophesied that she would become pregnant.
The church's pastor, Bishop Johnnie T Lowe, who is also a cousin of Alexandria's, then shared a vision with the congregation. In that vision, she said, he had seen her husband, who was at home at this time, standing at the back of the church holding a baby girl.
From this point on, Alexandria became filled with hope.
However, throughout her journey to conception she suffered with health challenges, including deep vein thrombosis caused by a protein C deficiency, endometriosis and an ovarian cyst. All this coupled with a weight issue led doctors to tell her that it was very unlikely she would ever conceive a child.
"Wow, what do you do when you are given information like that when just a few months ago you have been told you will have a baby. You stand on the promises; you have to build up your faith," she writes. "Faith is paramount to me."
It was in 2000 that her faith was rewarded and she did indeed become pregnant.
"Words cannot express how I felt at that point," Alexandria said.
Her pregnancy was overseen by Dr Anthony Carey, who specialises in high-risk pregnancies and infertility, Dr Adrian Sawyer and Dr Frank Boyce.
The title of the book explains the significance of her journey, she said.
"A rainbow is the symbol of God's promise, and it was in 2000 when I was driving the boat after Thomas and I were coming from a boat trip in the cays when I saw the most gorgeous rainbow and just felt so peaceful. It was a sign for me to remember what God had promised me and I knew that I would have a child, and very shortly after that I got the positive pregnancy test," she said.
"So the rainbow has always had significant meaning to me."
"Rainbow Promise – A Modern Day Miracle" is available to purchase at Logos Bookstore in Harbour Bay, the Christian Bookstore in the Palmdale Shopping Centre, as well as the Bellevue Business Depot in Marsh Harbour, Abaco, and it can be ordered online from Amazon.