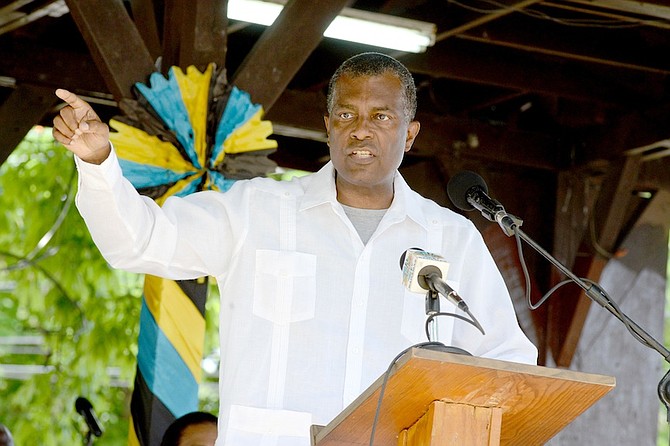 By RICARDO WELLS
Tribune Staff Reporter
rwells@tribunemedia.net
FOREIGN Affairs and Immigration Minister Fred Mitchell yesterday continued his public recrimination of Baha Mar CEO Sarkis Izmirlian, saying an invitation should be extended to the developer "to consider making the appropriate steps to live elsewhere" if he cannot conform with the expected conduct of "economic guests."
During an Emancipation Day speech, the Fox Hill MP cited Section 81 (D) of the Immigration Act, which outlines how the immigration status of a resident can be revoked if the person in question behaves in a way that is "not in the public interest."
He added that Mr Izmirlian's most recent "attack" against Prime Minister Perry Christie was "offensive" and "incompatible with the status of someone who is not a Bahamian citizen." Mr Izmirlian is a permanent resident in this country.
Mr Mitchell said this is part of a bigger trend, adding that he gets complaints every week from Bahamians about "abusive language" from expatriates.

"They talk down to Bahamians," he added. "They criticise the politics of the country. They threaten to corrupt immigration officials to prevent their removal from the Bahamas."
He continued: "It is like people want to invite us out of our own country; that the privilege which has been extended to them to work and live here has been abused. It is therefore no surprise then that an investor, because he has the word billionaire behind his name, would have temerity to believe that he can challenge the leader of our country on political grounds."
He added: "The late Clarence A Bain used to say: We must not be weak-kneed apologetic Negroes. This cannot stand. It is at the very least important for an invitation to be extended to that individual to consider making the appropriate steps to live elsewhere if he does not wish to conform with the mores of conduct of those who are economic guests in our country."
Mr Mitchell told the crowd that the whole country is concerned about the mega resort, but stressed, "money does not buy our silence and our subservience."
He added that he is "offended" by the fact that Mr Izmirlian addresses the resort's staff as "Baha Mar citizens" in company memos.
Mr Mitchell said: "Let me get this straight. There are only citizens of the Commonwealth of the Bahamas. That is the country to which we owe loyalty. Baha Mar is a commercial entity, designed purely for the profit of the developer."
He said the developer of the $3.5bn Cable Beach resort cannot buy the young people of the Bahamas.
"This juncture with Baha Mar challenges our sovereignty, our emancipation, in this respect, you cannot have some rich man who thinks that because he has money he can buy influence in our country, speak to our leaders in any which way or fashion and then seek to manipulate our young people to work against us."
Mr Mitchell insisted that the Office of the Prime Minister deserves respect.
"If we allow it to be denigrated and not say a single word, we betray all that our forefathers and foremothers fought for."
Last week, during an interview on Star 106.5 FM's talk show "Jeffrey," Mr Izmirlian said the prime minister is not doing what is best for the country. He was referring to the government's winding up petition against the resort. "I think he believes he is doing the best thing for the Bahamian people," Mr Izmirlian said. "I don't think he is, but I think he believes is. And so, I will work with him. I will partner with him."
Mr Izmirlian also said he felt personally attacked by the Christie administration and said that voters will decide at the ballot box how they feel about the government's handling of the controversy.
Last month during his Independence Day remarks given in Exuma, Mr Mitchell also hit out at Mr Izmirlian.
At the time, he said the developer "would not have lasted the next day within the borders of the Bahamas" if he had insulted the government in the days of previous ministers of immigration such as Loftus Roker.
When contacted for comment last month, former Foreign Affairs Minister Brent Symonette said Mr Mitchell's conduct was not fitting behaviour for a Cabinet minister.
Mr Izmirlian has been at odds with the Christie administration since Baha Mar filed for bankruptcy in a US court on June 29. Mr Christie has said the action came "without notice" to the government.
The Supreme Court has rejected Baha Mar's request to have its bankruptcy filing recognised in this jurisdiction.
Meanwhile, a hearing into the government's winding up petition against the resort has been adjourned until August 19.
However, the government has said it would like Baha Mar and its Chinese partners to reach an out of court agreement that would get the resort on track and opened as soon as possible.