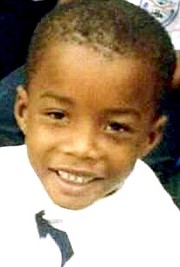 By SANCHESKA BROWN
Tribune Staff Reporter
sbrown@tribunemedia.net
THE mother of the four-year-old boy who was "accidentally" shot and killed in his home on Saturday, said she is "absolutely devastated" to have lost her son so tragically, two days before his birthday.
In an exclusive interview with The Tribune, 25-year-old Sharon Defrand said instead of celebrating her son's "five years on earth" – his birthday would have been yesterday - she is now planning a funeral and trying to come to terms with his death.
Ms Defrand's birthday, which is Wednesday, will also be marred by the tragedy.
According to police, Denzil Joshua "Joshy" Demeritte and another male child were playing with an "illegal handgun" at his home on Balls Alley when the gun went off and Denzil was shot. The incident happened shortly after 3pm on August 1.
He was rushed to the hospital where he died shortly after arrival.
Fighting back tears, Ms Defrand said an older neighbourhood boy found the weapon and was showing it to her son when the unthinkable happened. However, she said she does not blame the other child or his parents and still loves them in spite of everything.
"I'm not sure what happened in the house because I was outside, but all I heard was 'bam' and I ran inside and saw my baby on the floor and (he) was screaming for me," Ms Defrand said.
"I grabbed him and ran screaming for help, I was screaming for someone to call the ambulance. One of my friends was at the house and took me to the hospital. When we got there he was rushed into surgery but the doctors came out later and said they could not save him. The hole in his back was too big and he lost too much blood.
"I just want my baby back," the emotional mother added. "He was lovable and sweet and always had a grin on his face. Everyone loved him and everyone is asking 'why?' Why did it have to be him? He was just so sweet, this hurt a lot of people. He was my middle child and he loved his little sister and his big brother so much."
Ms Defrand said she holds no ill feelings toward the other boy, who was unharmed during the shooting.
"When I went to the house to get some stuff, I walked over to his house and I hugged him and told him I loved him and it wasn't his fault. He was crying and saying he just wanted 'Joshy' back and I tried to console him as much as possible."
Officer-in-charge of the Central Detective Unit, Chief Superintendent Paul Rolle said police have not charged anyone in connection with the shooting.
He said officers are still investigating whether the victim shot himself or was shot by someone else.
In an earlier statement, police said the victim's parents were assisting with the investigation.
Anyone with information is asked to contact police at 911 or 919, the Central Detective Unit at 502-9991 or Crime Stoppers anonymously at 328-TIPS.