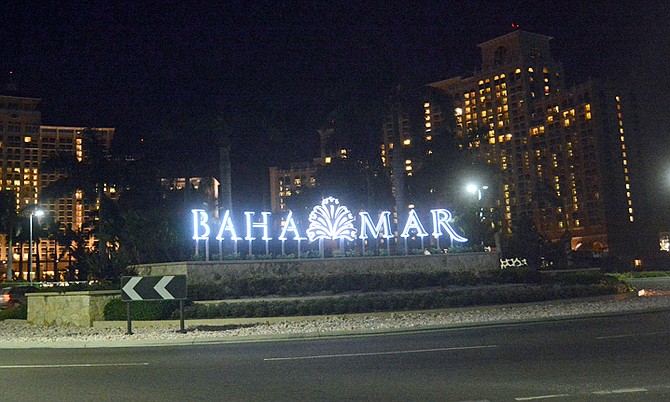 By NICO SCAVELLA
Tribune Staff Reporter
nscavella@tribunemedia.net
A SUPREME Court judge yesterday granted leave for Baha Mar attorneys to appeal his previous decision not to recognise the mega resort's ongoing Chapter 11 bankruptcy proceedings in the Bahamas.
Justice Ian Winder approved the application by Baha Mar's attorneys to petition the Court of Appeal in a bid to reverse his previous rejection of Baha Mar CEO Sarkis Izmirlian's motion to have the resort's US bankruptcy orders approved in the country.
This came two weeks after Justice Winder rejected the resort's application for an order recognising the primary insolvency proceedings underway in the United States, stemming from Baha Mar's Chapter 11 bankruptcy filing on June 29.
Justice Winder also rejected a request for Baha Mar to get an approved extension for its $80 million debtor-in-possession (DIP) financing approval by the Delaware court to take effect. Baha Mar's requests for alternate relief were also rejected.
The crux of Justice Winder's decision, revealed in his written judgment that was released yesterday, was that despite the "attractiveness of the laws of our neighbours (US)" it is not for the court "to advance matters, which are the exclusive purview of the legislature."
Yesterday, Crown attorney Loren Klein opposed Baha Mar's application to appeal, suggesting that the application was "misconceived."
His sentiments were shared by Sophia Rolle-Kapousouzoglou, attorney for the Export Import Bank of China, as well as Sean Moree, representing China Construction America (CCA) Bahamas.
Mr Moree's objection, however, was based on whether Justice Winder's decision to reject Baha Mar's application was final or interlocutory. If interlocutory, Mr Moree said it would be "wrong" for the court to grant Baha Mar leave to appeal without having given a final judgment on the matter in question.
Declaring his decision not to recognise Baha Mar's ongoing bankruptcy proceedings in the Bahamas as final, however, Justice Winder subsequently approved Baha Mar's application for leave to appeal.
After proceedings ended, Patrick Ryan, an attorney for Baha Mar, said he was "pleased" with Justice Winder's ruling. "Whenever you make an application and your application is granted, you're pleased that that's happened, so I'm pleased," he said.
However, he would not reveal what arguments Baha Mar would raise in its attempts to have Justice Winder's decision reversed.
Last week however, Maurice Glinton, QC, another attorney for Baha Mar, expressed optimism that Court of Appeal judges would give "due consideration" to the resort's attempts to reverse Justice Winder's decision. In June, Baha Mar and its affiliated companies filed for bankruptcy in a Delaware court, blaming the resort's contractor, CCA, for the construction delays that caused it to miss previous opening deadlines.
The resort also took legal action the following day against CCA's parent company, China State Construction Engineering Company, in England's High Court of Justice.
On July 1, US Judge Kevin Carey approved the resort's request to begin tapping into $80m in financing to keep the resort on track for opening while it undergoes Chapter 11 bankruptcy proceedings in that state.
However, the Delaware judge's approval of the DIP financing request, to include $30 million to be used by the resort over 30 days, was conditional on the approval of the Bahamas' Supreme Court.
Last week, Justice Winder adjourned proceedings on the government's petition to wind up Baha Mar to August 19-20 after revelations that Baha Mar's contractor had expressed reservations about the personnel appointed to serve as provisional liquidators for Baha Mar.
It was revealed that CCA, in a letter sent to the Office of the Attorney General from PriceWaterhouseCoopers (PwC) Bahamas, contested the appointment of three PwC professionals to serve as Baha Mar's provisional liquidators.
It was also revealed by counsel that the government has already approached three professionals from Ernst and Young (Bahamas) - Michele Thompson, Roy Bailey and Karen Hutchinson - as potential replacements for the PwC professionals.