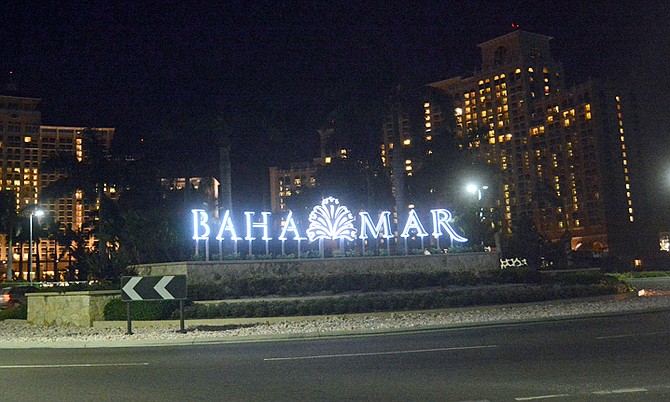 By SANCHESKA BROWN
Tribune Staff Reporter
sbrown@tribunemedia.net
BAHAMAS Real Estate Association President Carla Sweeting said she is "very concerned" about what will happen to Bahamian landlords if Baha Mar expatriates are forced to leave the country.
Speaking with The Tribune, Ms Sweeting said while she has not heard anything "concrete", there has been speculation that the resort's expats will be leaving town soon, forcing scores of rental units to be placed back on the market.
She said many apartment and residential property owners in the Cable Beach area had invested heavily in their rental units in anticipation of leasing them to Baha Mar staff. She added that many landlords depend on that money to pay their mortgages and bank loans.
The Tribune understands that expatriate staff at Baha Mar's Grand Hyatt hotel are set to be pulled out of the Bahamas this week, following a decision by the government not to pay the mega resort's non-Bahamian employees on payday last week.
According to a well-placed source, officials from the Grand Hyatt informed resort representatives on Friday about the impending move. It is unclear how many workers will be moved, but it is expected they will be transferred to other Hyatt properties around the world.
"We have got a couple of landlords saying 'this property is going to come on line shortly, if this thing doesn't work out' but I have gotten nothing concrete," Ms Sweeting said, when contacted for comment about state of the industry in view of Baha Mar's difficulties.
"I am only hearing noise in the market but none of my people have said anything to me, but I have a few people who I have also rented properties to that I have kept in mind, just in case. It is a concern to us – the whole Baha Mar thing is a concern. We are already down 50 per cent in sales this year from the same period last year. We are trying to stay positive and not spook people anymore than they really are, but things are not so good.
"We cannot tell if it is the implementation of value added tax (VAT) or whether it is because the economy is bad or whether it is because the banks aren't lending, but we are concerned.
Properties
"Lots of Bahamians who own properties that are being rented by Baha Mar staff are asking themselves 'how am I going to pay my mortgage?' But like I said, no one has contacted me yet, it is just a lot of speculation and a lot of people thinking 'what is going to happen now?'"
In early July, the government announced that it would pay Bahamian employees at the resort for one month, stating that the decision was a bid to block the more than 2,400 workers from being used as pawns in the resort's Chapter 11 bankruptcy filing.
The resort's Bahamian workers are paid bi-weekly. The Tribune understands the government has paid Bahamian workers for three pay periods so far.
Baha Mar's expat workers are paid monthly and had received their last salary payment shortly before the resort filed for bankruptcy on June 29.
Last week, a Baha Mar executive hit out at the Christie administration for refusing to pay the resort's foreign staff.
In a letter to staff last Wednesday, Baha Mar Vice President of Human Resources Magdalena Hamya said this decision sends a terrible message to the resort's non-Bahamian workers.
Ms Hamya said the resort was "shocked" by the move, noting that in early July Attorney General Allyson Maynard-Gibson said the government would cover Baha Mar's total payroll of $7.5 million a month, "which includes the salaries of our non-Bahamian employees."
The payroll for the resort's foreign workers is nearly $1.8 million a month.
The Supreme Court has rejected Baha Mar's application to have its Chapter 11 bankruptcy orders from a US court recognised here. However, the resort was granted leave to appeal this decision yesterday.
Last week, the court also adjourned a hearing into the government's winding up petition against Baha Mar until August 19.