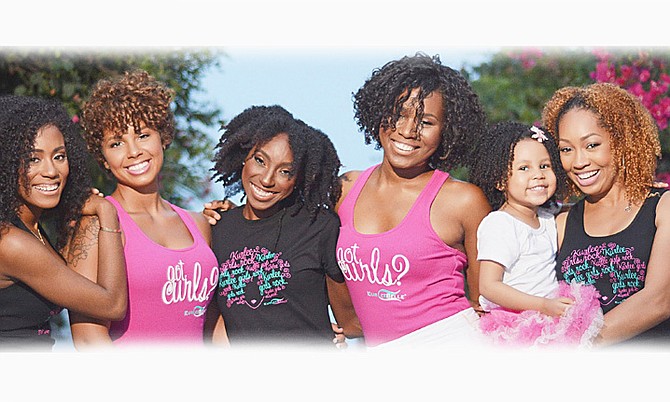 By JEFFARAH GIBSON
Tribune Features Writer
jgibson@tribunemedia.net
EVEN with the inspiring results of the many others who have made the successful transition, some women still find it difficult to fully commit to the natural hair journey. And those who have actually gone through the process are not shy to admit that it can be difficult at times and takes a lot of effort, yet is ultimately doable and so worth it.
Terrinique Pennerman has for the past several years sought to make the transition to natural hair easier for Bahamian women. Since deciding to join the movement and wear her hair in its natural state, Terrinique has made the journey a less challenging one for herself and others.
In 2013, she launched Kurlee Belle, a company that offers eco-friendly, high-performance hair care products for curly hair, natural hair and relaxed hair with a tropical/Caribbean theme inspired specifically by hair recipes from the islands of the Bahamas.
Now she has penned the "Kurlee Textures Guidebook" that aims to help women with information about different textures as well as tips on products and styling for natural hair. The book will be available at the end of the month.
From her experience, Terrinique said the most common challenge that women new to natural hair face is that they either do not know what exactly their hair texture is or they do not embrace their texture.
"We post daily pictures on the Kurlee Belle's Facebook and Instagram of naturals who use 'Kurlee Belle' and their beautiful curls. Most naturals look at those photos in awe and think if they use that product their hair will look like that, and that is not the case. Everyone's hair texture is different. Some people have wavy hair, curly hair, kinky curly hair or kinky coily hair, which is solely based on genetics," Terrinique said.
"If you have kinky coily hair, which is a tighter texture than kinky curly hair, your hair will not look like the girl with kinky curly hair no matter which products you use. I think women that are contemplating going natural and some who are already natural should embrace their natural curl pattern and find styles that complement their texture instead of comparing their texture to others. At Kurlee Belle, we try to encourage naturals to do just that and it is one of the reasons why I wrote the 'Kurlee Textures Guidebook'."
In the book, Terrinique shows women which category of hair texture they fall in, how to use the products for best results and which styles are best.
Accepting one's natural curl pattern is the first step for women who are transitioning, she said.
"Once a natural embraces her natural curl pattern, half of the battle is won because you will have family members and co-workers say to you, 'Girl, you need to perm that bush.' But naturals have to be comfortable and confident about their natural curl pattern to go from transitioning to being fully natural. It will be frustrating at first to adjust to caring for your natural hair if you have had relaxed hair all of your life. You have got to be patient with your natural hair journey, get educated about how to care for your hair, which styles look best on you and which products to use. Kurlee Belle's main focus is to help naturals feel comfortable with their texture," she told Tribune Woman.
Once women are comfortable with their hair and how it grows, Terrinique said they will be able to experience the benefits of the process.
"The number one advantage of wearing one's hair natural is freedom and self-love. Women have the ability to look at themselves in the mirror and love the way God made them. There is something so liberating about that and it provides a natural confidence.
"Secondly, you have more time and money. No need to spend countless hours in the beauty salon getting your hair relaxed or weaved, spending hundreds or thousands of dollars on weaves. Being natural eliminates those costs and saves you time because you can do your hair yourself at home by watching tutorials on YouTube. Thirdly, you can wet your hair at the beach or get wet in the rain and not have to worry about your relaxed hair being messed up. Life gets easier," she said.
Kurlee Belle is Bahamian-owned and internationally distributed throughout the world. The products are made from natural ingredients like banana, coconut, avocado, shea butter, honey, and does not contain any parabens, sulfates, animal ingredients, gluten, paraffin, phthalates, mineral oil, PABA, DEA, synthetic colour, propylene glycol or petroleum, Terrinique explained.
"I was inspired to make my own products when I decided to go natural. I wanted to use products that were made from natural ingredients for natural hair. I searched for organic or natural products, but could not find products that were specifically made from natural ingredients for natural hair that really worked.
"I then started mixing my own products using shea butter, mayo, honey and coconut oil. These concoctions of creams and butters were working so well on my hair that a friend suggested that I start my own hair care line. I have always been entrepreneurial, so the idea lit a spark in me and I started researching natural ingredients and how they worked with the chemistry of hair. My goal was to build a brand with integrity while applying my knowledge from business school — to make products from natural ingredients that really worked," she said.
Kurlee Belle is headquartered and distributed out of Charlotte, North Carolina. Products are available in the US, the Bahamas, Africa, Europe, Australia and throughout the Caribbean.