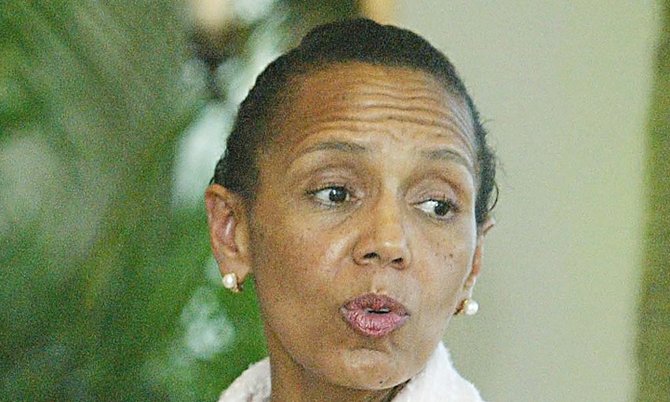 By NICO SCAVELLA
Tribune Staff Reporter
nscavella@tribunemedia.net
ATTORNEY General Allyson Maynard-Gibson yesterday denied claims that the government was conspiring with China Construction America Bahamas and the Export-Import Bank of China to undermine the orders of a US bankruptcy court in Delaware.
Responding to claims recently made by an attorney for Baha Mar, Mrs Maynard-Gibson acknowledged that the government "shares the same interest as many other creditors." However, she said there is a "big difference" between "common interests as creditors and a conspiracy."
Mrs Maynard-Gibson also said negotiations between Baha Mar and its Chinese partners to come to an agreement over the future of the $3.5b project are currently at an "interesting, delicate stage."
Mrs Maynard-Gibson did not say if she felt the relevant parties would ever come to an agreement; however, she said she remains "optimistic and hopeful" that the matter can be resolved outside of court.
Last week, CCA (Bahamas) attorney Michael Guiffre wrote a letter to US bankruptcy Judge Kevin Carey, seeking a protective order to prevent Baha Mar from interrogating CCA executives over their dealings with the government subsequent to the resort's June 29 Chapter 11 bankruptcy filing.
On Friday, Laura Davis Jones, attorney for Northshore Mainland Services Ltd, a Delaware-based company owned by Baha Mar, dismissed Mr Guiffre's letters to Judge Carey as "gamesmanship" in a series of litigation tactics. She also accused the government of conspiring with CCA and the Exim Bank to undermine the proceedings currently underway.
When questioned by reporters on the matter outside the Senate yesterday, Mrs Maynard-Gibson said: "Our courts continue to resolve complex commercial disputes with the utmost competence, independence and integrity. The Bahamas government shares the same interest as many other creditors. There's a common interest as creditors. There's a big difference between the common interests as creditors and a conspiracy."
She added: "There is no conspiracy. I don't think I can say it clearer than that. What the Bahamian people want is for that resort to be remobilised, opened and operated as quickly as possible for the benefit of the Bahamian people."
When questioned by The Tribune for an update on negotiations over the resort's future, Mrs Maynard-Gibson said: "I would say everything is at an interesting stage, a delicate stage some people might describe it as. I remain optimistic and hopeful and I hope that, as the prime minister has indicated, this matter can be resolved by agreement."
She added that the Supreme Court would hear the government's winding up petition to appoint a liquidator for Baha Mar on August 19.
She said if the parties cannot reach a resolution out of court, then this avenue will "expedite the remobilisation, the opening and the operation of Baha Mar as quickly as possible for the benefit of the Bahamian people."
Last week, Mr Guiffre urged the Delaware bankruptcy court to stop Baha Mar's "proverbial fishing expedition" and prevent it from using the Chapter 11 action to "tarnish the Bahamian government."
Slamming Baha Mar's "unwarranted and inappropriate discovery," Mr Guiffre said the developer's demands were "wholly irrelevant" given that CCA's bid to dismiss the Chapter 11 action was founded on one issue – whether Delaware, rather than the Bahamas, was the correct forum for insolvency proceedings involving Bahamian companies.
On August 7, however, Ms Jones sent a letter to Judge Carey, asking him to deny CCA's request for a protective order as well as compel CCA to produce documents and testimony in response to her clients' discovery requests.
Ms Jones stressed that her clients are seeking documents and testimony from a corporate representative on CCA's communications with the Bahamas government about Baha Mar's proceedings in the US and the Bahamas. That includes the memorandum of understanding (MOU) signed between CCA and Baha Mar on May 17, 2013.
Mrs Maynard-Gibson has led two government delegations to Beijing, China for negotiations about the resort since the property filed for bankruptcy on June 29.
Despite the talks, a deal has not been reached.