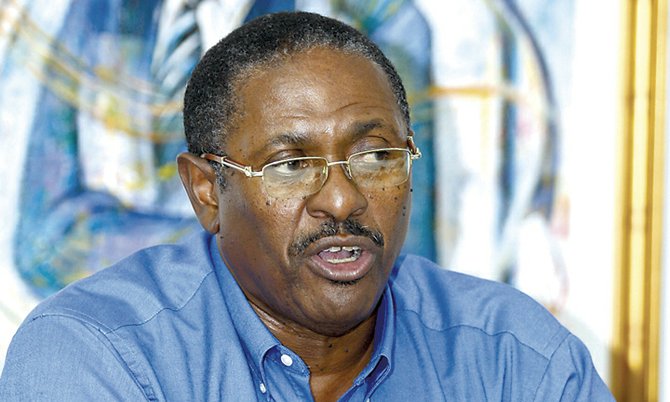 By SANCHESKA BROWN
Tribune Staff Reporter
sbrown@tribunemedia.net
SENATOR Michael Pintard yesterday challenged PLP Chairman Bradley Roberts to present documents proving opposition Leader Dr Hubert Minnis was in a conflict of interest when he was minister of health or to "stop running a smear campaign."
Speaking with The Tribune, Mr Pintard said Mr Roberts is the last person who "should be questioning someone's integrity" when he is the least qualified.
Mr Pintard was responding to a statement released by Mr Roberts that questioned whether Dr Minnis benefited financially from the Public Hospital Authority (PHA) entering into a lease agreement involving the use of the Stat Care building – in which Dr Minnis had invested.
In the statement Mr Roberts said Dr Minnis must confirm or deny this and state whether he benefited financially from the arrangement. The Tribune contacted Dr Minnis for a response, but he referred this newspaper to Mr Pintard, FNM chairman. "As the minister responsible for the PHA and a businessman with significant financial interest in Stat Care, it would appear that he was in a conflict between his public duty and his private business interests," Mr Roberts alleged.
"It is necessary for him to clarify this seemingly conflicted arrangement if he is to be seen as a credible opposition leader with clean hands. Dr Minnis knows full well that sweeping this under the carpet does not a clean hand make, as his hands still appear grubby. Minnis must put up or shut up," Mr Roberts said.
However, Mr Pintard said Mr Roberts is the one who needs to "put up or shut up" by having his colleagues table the original lease agreement in the House of Assembly.
"The leader (Dr Minnis) has said on more than one occasion that the original contract signing for Stat Care occurred prior to him entering politics and upon the expiration of the contract, he never got involved," Mr Pintard said.
"I would go further and say that the PLP chairman is in a position to present the documents or have his colleagues lay them on the table to refute Dr Minnis' remarks. The failure to do so would demonstrate that the PLP is just running a smear campaign. Mr Roberts in engaging in old style Bahamian politics that goes after a person's character and he is the least qualified of the bunch to do so. He needs to be concerned about coming together and discussing how we can reduce the misery Bahamians are experiencing."
Mr Roberts' comments came one day after Dr Minnis called for Attorney General Allyson Maynard Gibson to resign for what he said is a conflict of interest regarding Baha Mar.
Mrs Maynard-Gibson, who is the lead negotiator for the government in the Baha Mar discussions, revealed on Monday that her husband owns a jewellery store chain that has leases in Baha Mar.
Last week, she said it was her two daughters who owned the leases for the stores in question. She also rejected that she has a conflict of interest.
Mrs Maynard-Gibson has travelled to China twice as head of a government delegation to mediate talks with Baha Mar, project financier the Export-Import Bank of China and general contractor China Construction America (CCA) Bahamas.
Baha Mar filed for Chapter 11 bankruptcy in a US court on June 29. However, all sides have been engaged in talks to hopefully come to an out of court agreement to get the resort finished and opened.