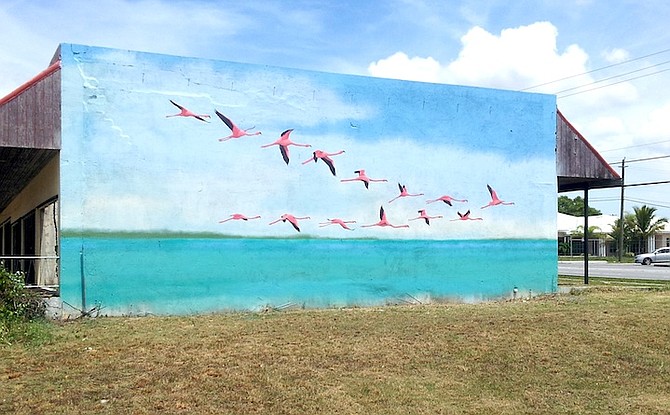 By DENISE MAYCOCK
Tribune Freeport Reporter
dmaycock@tribunemedia.net
BAHAMIAN artist Sheldon Saint has completed his second mural of flamingos in flight at the Sun Coral Plaza on East Sunrise Highway in Grand Bahama.
It is the largest work of art he has done to date.
Mr Saint, an awarding winning artist, has been commissioned by the Grand Bahama Port Authority to enhance derelict buildings identified throughout Freeport as part of a major beautification project.
The mural is 25ft x 51ft and took Mr Saint 11 days to complete. He had to use a few levels of scaffolding in order to paint the building's entire exterior.
"One of the things that kept me going is that some of the folks passing by from day to day would say, 'hi Sheldon, nice job; like what you're doing; it's looking good, great idea' - those are the kinds of things that added fuel to my ability to create," said Mr Saint.
This is the second building that Mr Saint has painted, the first being the Country Squire Building on Queens Highway.
"I am working with the Grand Bahama Port Authority in their beautification project and when I first thought of the (Sun Coral Plaza) building, the flamingos came to mind immediately," he said.
"This is one of the busiest intersections on Grand Bahama, and I wanted something here that was busy, but not too busy and I wanted to add some colour, and I think that is what I achieved here today with the movement of the flamingos and their wings. I also wanted to bring in some of the water that so many of us here on the island love, and our guests and visitors enjoy."
Mr Saint is known for capturing natural beauty of island life.
"That (is) one of things I love to share with my audience. I noticed that a lot of folks don't get to go to the other islands or to some of the settlements in Grand Bahama, so I try to bring the whole island feel to my audience, which I noticed that folks actually love and appreciate," he said.
He is very excited to be creating and sharing his work with the public in such a big way.

When asked how he felt about working with the Port Authority on such a major project, he said: "This is like a dream come true. This is something I wanted to do but it is on a bigger scale; this is by far the largest canvas I've worked on and the largest project I have worked on to date."
For more than 20 years, the self-taught artist has been "creating exceptional detailed works" of art in oil, watercolour, egg tempera and conté.
His work has been shown
extensively in the Bahamas in group and solo exhibitions since 1995.
His paintings have been accepted for the National Art Gallery of the Bahamas Inaugural Exhibition in 2003, and the second National Exhibition in 2004.
The Grand Bahama Port Authority's initiative will involve eight unsightly buildings in high traffic areas on the island.