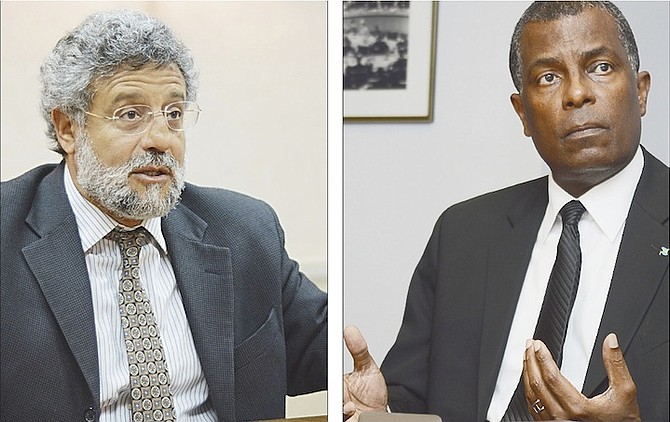 By AVA TURNQUEST
Tribune Chief Reporter
aturnquest@
tribunemedia.net
THE Grand Bahama Human Rights Association yesterday accused Foreign Affairs and Immigration Minister Fred Mitchell
of using "fear tactics" to stifle free speech in the country.
GBHRA President Fred Smith underscored a "disturbing trend" in Mr Mitchell's recent public statements in response to comments that were "potentially critical" of himself, the government, or the Progressive Liberal Party.
Mr Smith said: "In an approach familiar to anyone who has lived under an authoritarian dictatorship where individual rights and freedoms are trampled upon by those in power, Mitchell has taken to branding any utterance he objects to a 'national security' concern, or some other form of serious threat, then seeking to have law enforcement investigate whomever he feels has offended him.
"We saw this recently with his revelation that Baha Mar developer Sarkis Izmirlian is 'under investigation' in relation to some mysterious complaints about his 'conduct in the country,'" he said.
"Ominously vague allegations followed by the threat of official action – here we have the classic dynamic by which, throughout history, tyrants have sought to terrify members of the public into silence."
Mr Smith pointed to accusations levelled by Mr Mitchell at the GBHRA due to its opposition to the government's new immigration policy.
At that time, Mr Mitchell suggested that the actions of GBHRA and other activists were possibly aiding human smugglers.
Policy
Mr Mitchell also accused Mr Smith of making inflammatory comments against the Christie administration on a local radio show following the implementation of the new policy on November 16.
The show, the Kreyol Konnection, was reported to regulator URCA and subsequently cancelled.
Mr Smith added: "Mitchell's fear tactics were on display yet again this week, in his reaction to a town hall meeting organised by Haitian-Bahamian community group, The Connection.
"In his shadowy, provocative reference to the involvement of 'certain activists' and his claim that some undisclosed 'unfortunate things' were said, the minister clearly sought to paint in a sinister light an event that was completely above board and conducted in the spirit of community and open information sharing."
Mr Smith said that the chairmen of the PLP and FNM were invited to attend the event.
"There was nothing whatsoever about the meeting that could be construed as clandestine or tending towards incitement," he said.
"But it was apparently necessary for Mitchell to paint the event in such a light, in order to justify his claim it should be examined 'by the national security people' – textbook thug tactics for silencing free speech."
Mr Smith added: "The GBHRA, along with all other defenders of the Constitution, will continue to advocate for the greater recognition of the rights and protections enshrined therein through open discussion, advocacy, and legal action if necessary. We will not be intimidated by base threats and petty sabre rattling."