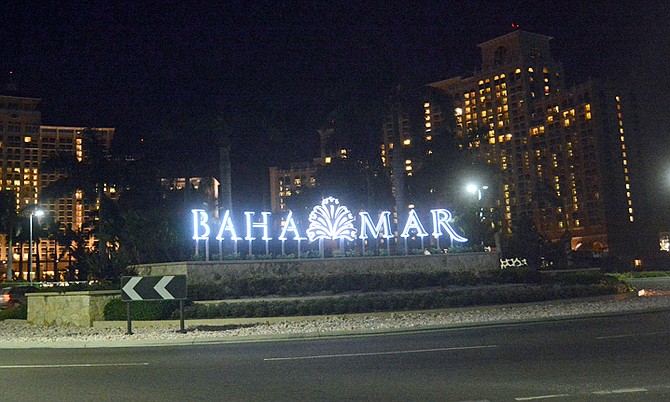 By AVA TURNQUEST
Tribune Chief Reporter
aturnquest@tribunemedia.net
BAHA Mar is still unable to pay its expatriate workers despite securing nearly $15 million in debtor-in-possession (DIP) loans, according to the resort's Senior Vice-President Robert Sands.
Mr Sands explained that the funding was advanced to Baha Mar's affiliate, Northshore Mainland Services Inc to cover Baha Mar's working capital needs during its Chapter 11 bankruptcy proceedings.
In a supplemental declaration filed in a Delaware court on Wednesday, Baha Mar's President Thomas Dunlap revealed that the resort has secured $14.936 million in DIP loans to meet approved and budgeted expenses, despite failing to secure the requisite government approvals.
The loans were advanced by Baha Mar CEO Sarkis Izmirlian through his Granite Ventures Ltd entity.
On July 1, a US bankruptcy court in Delaware approved the debtor-in-possession facility on an interim basis, authorising the debtors to borrow up to $30 million to fund the maintenance of the $3.5 billion resort property, pay necessary operating expenses and finance the administrative costs of the Chapter 11 Cases.
However, the Bahamas' Supreme Court denied recognition of the resort's Chapter 11 bankruptcy protection and the interim order last month. The DIP facility still requires a permit from the Bahamas Investment Authority, as well as permits from the Central Bank of the Bahamas.
"Given the absence of The Bahamas approvals," Mr Dunlap said, "and in order to nevertheless fund DIP advances to the debtors (Baha Mar and affiliates), the DIP lender provided funding waivers to the debtors and agreed to certain limited modifications to the structure of the DIP facility to avoid the requirement of The Bahamas approvals."
A budget attached to the declaration shows that Northshore paid salaries for two periods in July, and planned to make further payments in August.
Yesterday, Mr Sands confirmed that the budgeted salaries did not reflect salaries owed to Baha Mar's expatriate workers.
In a staff memo last week, Mr Izmirlian stressed that Baha Mar's main focus was to "explore ways" to pay its non-Bahamian workers. He said the government's decision not to pay the resort's foreign staff was "deplorable."
The resort has not confirmed whether there had been any resolution to the matter.
The government has pledged to pay Bahamian workers at the resort until the $21m owed to the mega resort by the government for roadwork is exhausted.
The resort's Bahamian workers are paid bi-weekly, and according to officials, Bahamian workers have been paid for three pay periods since the resort filed for bankruptcy on June 29.
Last week, both Deputy Prime Minister Philip Davis and Attorney General Allyson Maynard-Gibson confirmed that the government will continue to pay Bahamian employees for the fourth pay period, which was due yesterday.