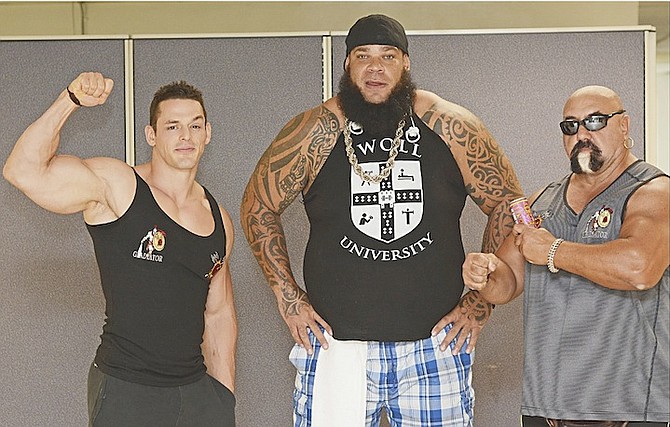 By BRENT STUBBS
Senior Sports Reporter
bstubbs@tribunemedia.net
BRODUS 'Tyrus' Clay and Jessie 'Mr Pec-Tacular' Godderz are in town and they have both consented to put on a show in two weeks for the Bahamian public when the Gladiator Championship Wrestling makes its debut at Arawak Cay on Saturday, August 29.
The duo are in town along with GCW president Nick Cara to help promote the show. They will be making an appearance at Mt Calvary Baptist Church on Baillou Hill Road 10:30am Saturday before they head to a Bahama Beach Bash at Nirvana Beach 1pm Saturday. While the church function is free, there will be a cover charge of $10 for the beach bash.
For Godderz, this is his second appearance in the Bahamas, the first on a cruise. But the Huntington Beach, California, resident noted that when he returns for the actual show he will display what he has learned in the nine years that he has been involved in the sport for the Bahamian people.
"I am here for the competition. I have a bone to pick up a handful of competitors on the roster," said the five-foot, 10-inch 248-pound Mr Pec-Tacular, who has been a hit with the ladies. "I'm a professional athlete and so I have an unique physique and that is why I got my nickname. I think things are going to go so well in the match that I might just end up counting my abs. The ladies will be in for a treat."
Mr Pec-Tacular is a former two-time TNA World Tag Team champion with Robbie E as The BroMans. He also trained in TNA's former territory Ohio Valley Wrestling (OVW), where he won the OVW Southern Tag Team Championship five times and he also appeared as a contestant on the reality competition programme Big Brother.
Brodus Clay, the runner-up on the fourth season of NXT and a former competitor on the WWE main roster, comes to the Bahamas for the first time on his trip from Pasadena, California.
On his arrival, Clay said he got stuck in the arrival lounge at the Lynden Pindling International Airport where people were in such awe of his 6-8, 365 lb frame in his size 17 sneakers that he spent a lot of time taking photographs and signing autographs.
"All the skinny girls can have Mr Pec, but I am here for all the big bone girls," Brodus Clay said. "Bring food, bring food, lots of steak and chicken and yams, all the natural food. If you have a big weight room, let me know so we can throw some weight around and break a few records here in the Bahamas.
"Sorry girls I can't stay, but if you play your cards right, I will be back."
Clay believes he inherits his huge size from his father, whom he has never met.
On Thursday night, Clay defeated Matt Harding on a live television show and now that he's in the Bahamas, he's looking to crash whoever he faces in the ring on August 29.
"This is an amazing place," said Clay, who said when he got the call two days ago he couldn't resist making the trek here. "I'm really looking forward to coming back to put on a show."
Cara, who has been in and out of the country promoting the show, said the Bahamian fans will have a treat during the show as a number of top notch competitors have already confirmed their participation and are eagerly awaiting their appearance here in the next two weeks.
"I know the Bahamian people will love this group of Gladiator superstars who will be coming here," said Cara, adding that world heavyweight champion Bobby Lashley will be among the list of competitors.
"Next week, we will bring another group of competitors. Everything is rock and roll for the Bahamas show. Like I mentioned, you might never know who else we will have coming here to compete. The show is shaping up to be one that I know the Bahamian public will not want to miss on Saturday, August 29. You can come out on Saturday and see these two guys here at Mt Calvary and Nirvana Beach."