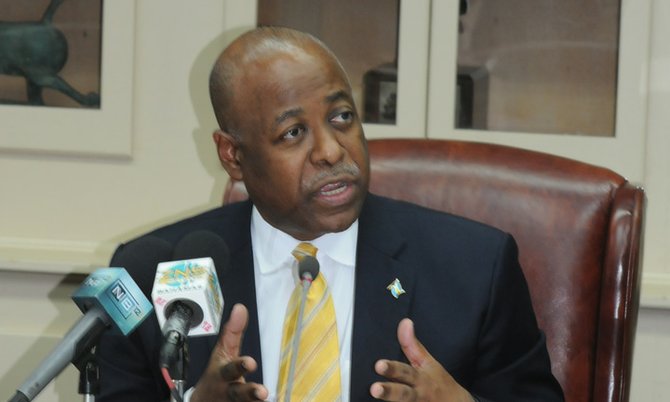 By KHRISNA VIRGIL
Tribune Staff Reporter
kvirgil@tribunemedia.net
TOURISM Minister Obie Wilchcombe yesterday called for greater transparency and accountability as China Construction America gears up to begin its $250m Bay Street luxury development – The Pointe.
Mr Wilchcombe said this will ensure Bahamians do not experience another "disappointment" as has been the case with the $3.5bn Baha Mar project which is in the midst of a bitter deadlock with the resort's general contractor, CCA over its Chapter 11 bankruptcy filing in the United States. This has prevented the West Bay Street resort from reaching completion and opening.
Nearly two weeks ago, CCA held a groundbreaking ceremony for The Pointe, however some observers are sceptical about the project's success because of CCA's involvement.
The West Grand Bahama MP said Bahamians have every right to be apprehensive, but insisted that the downtown project will be a success.
"I think Bahamians are now sceptical of all that has happened in the recent past," Mr Wilchcombe said, when contacted for comment. "I think the scepticism is to be understood.
"But from a government's standpoint we must ensure that CCA fulfills its obligations. Really, I don't have any issues with this project. I think it will be successful.
"But given what Bahamians have had to endure with Baha Mar, there is certainly a greater need for an understanding of what is about to happen in terms of marketing, when it will begin and more importantly clear timelines of when it will open.
"What we don't want Bahamians to ever have to go through again are high expectations and then to be let down. The government has a responsibility to ensure CCA delivers on what it has promised. We must do this assiduously."
He added: "CCA must deliver, because that is the only way Bahamians will accept now."
When officials broke ground on the project, CCA Chairman Ning Yuan told those gathered that the proposed world-class lifestyle and residential development was a "substantial milestone" for the company, adding that it was "different" from its other project in the Bahamas.
Mr Yuan said the purchase of the British Colonial Hilton and the adjacent harbourfront property represented CCA's first hotel and development acquisition in the Caribbean.
"CCA will be the sole investor, developer and contractor for The Pointe project. This will allow us to directly translate our commitment and vision for this entertainment destination to the Bahamian people," Mr Yuan said at the time.
"It will also ensure that The Pointe is completed on time and according to the highest standards," he added.
The Pointe is scheduled for a 2017 launch and is expected to provide 250 construction jobs for Bahamian workers. Additionally some 500 jobs are expected to be created within the 200-room entertainment hotel, oceanfront residences and 80-slip marina.
The development also boasts a 1,000-car garage, a bowling alley, and movie theatre.
Baha Mar filed for bankruptcy in a US court on June 29 and blamed CCA for several opening delays. The next day, the resort sued CCA's parent company, China Construction Engineering Corporation in the English High Court.
CCA has refuted Baha Mar's accusations and has said the resort's opening delays are due to financial and design mismanagement.