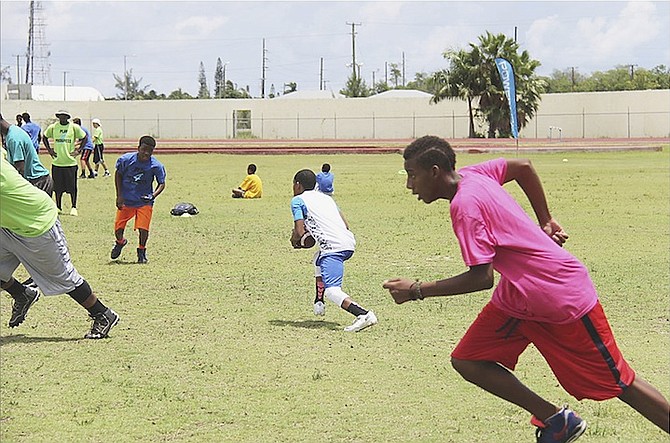 By RENALDO DORSETT
Sports Reporter
rdorsett@tribunemedia.net
The pilot programme of Myron Rolle's Play-4-Progress initiative had a successful launch last weekend, with scores of student athletes tutored in lessons in the classroom and on the football field.
Approximately 60 participants from New Providence and several Family Islands took part in the two-day event hosted at the Thomas A Robinson Stadium.
Rolle, the former Rhodes Scholar and now a student at Florida State University College of Medicine, said the programme falls in line with his theories on the path to becoming a great student athlete.
"We try to teach these young people how they can be leaders, learn how they can use these athletic gifts to  become better students, basically to transfer the properties of communication, dedication, teamwork, hard work, strategising, all the things that make you a better athlete, take them and make them have success in the classroom. That's something I was able to do for a long time and it afforded me to have a good balance as a student athlete and I just want to impart that on the young people here in the Bahamas," he said.
"The first thing I told them is I'm not interested in how much skills you have as a football player. I'm not looking for the next Devard Darling, Samari Rolle, the next me, the next NFL pro player. What I'm looking for is somebody who is willing to work hard, compete and use the intrinsic properties this great sport has to offer and use that to edify their life going forward as a student, as a leader, and as a great citizen of this country."
The Play-4-Progress is aimed to introduce three basic principles to its participants –  the fundamentals of American football, education and personal development.
"We had sessions on organisation, study skills, time management and I believe all those skills and aspects have helped to make me a better student athlete," Rolle said. "This is basically the blueprint I used to make me a better student athlete, to become a Rhodes Scholar, and I know it's a lofty expectation but I expect one of those young people here to go on and pursue a Rhodes Scholarship. I'm giving them all the tools I used on my journey and I'm giving it to them before I even got it."
Rolle was selected by the Tennessee Titans in the 2010 NFL Draft. In 2012, he signed with the Pittsburgh Steelers and announced his retirement from the NFL in 2013.
Also in attendance at the programme was another  Bahamian NFL player, Devard Darling, formerly of the Baltimore Ravens, Kansas City Chiefs and Houston Texans.
"We have so much talent, it's unbelievable. I love pouring back into it, this is what I live for," Darling said. "I'm here to inspire them and tell them the experience that I've been through,  being boring right here and being in this same situation, having the opportunity to go off, play the game of football and take advantage of all that football has given to me, it would be a travesty if I didn't pour that back into our youth.
Day one of the football clinic featured the football skills testing period and the day two session focused on football fundamentals with expert instructions from Bahamian NFL players along with locally based football coaches and leaders.
Additionally, on day two, Commonwealth American Football League coaches, Bahamas Flag Football League coaches and Family Island coordinators participated in a coaches' session that presented techniques to building a successful football programme, organising practice sessions and discussing high school and college football opportunities for youth football players and coaches.
"Something I'm always interested in doing is teaching the teachers. We want to teach some of the skills we have used because we have been around the game of football for a long time," Rolle said. "Once we teach them, they can teach the young kids and once we leave here our impact will never fade. We want to make this an annual event. Make it bigger speed to more people, have a more magnanimous event."
Former University of Miami Hurricane and current CAFL player with the Orry J Sands Pros, Ian Symonette, said there is tons of potential for the development of youth football in the country.
"There's a ton of potential, there are guys you can see are very raw at it and as they listen they are tentative but they put in the work, so in a split second you can see a guy go from being raw to doing what you tell him to do and getting better at it so you can see a future in it for the kids that came out here too," he said. "I encourage parents to go out there and learn more about the game and understand it."
According to a press release issued by the foundation: "The primary objective of P4P is to assist in the development of Bahamian youth through sports and understanding the importance of education in both athletic and personal development.  The messengers are all Bahamians who share a common heritage with participants and have all played at the professional level."
The Education Segment is a sub-set of the Myron L Rolle Foundation's Rhodes To Success Programme.
This segment was open to the football clinic participants and Nassau-based high school students. Participants were engaged in a series of techniques used by Myron Rolle from primary school to post graduate studies at Oxford University, Oxford, UK.
Camp sponsors included the Ministry of Tourism, the Ministry of Youth, Sports and Culture, the National Sports Authority, Cable Bahamas, Bahamas Telecommunications Corporation, Melia Nassau Beach Resorts, Charlotte Hornets and Bahamasair.
Additional information on Rolle and the Myron L Rolle Foundation can be found at rollefoundation.org and orwww.myronrolle.com.