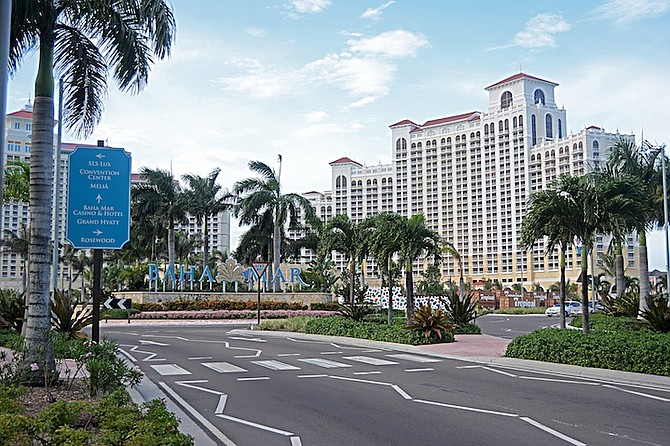 By LAMECH JOHNSON
Tribune Staff Reporter
ljohnson@tribunemedia.net
THE morning session of the second day of arguments for the government's winding up petition against Baha Mar came to a close when the mega resort's legal team challenged the selection of the latest prospective provisional liquidators, Ernst and Young.
James Corbett, one of two QCs representing the seven Baha Mar affiliated companies that are facing being wound up, brought the issue of potential conflict to Justice Ian Winder's attention before going to his substantive submissions - in the afternoon session - on why the government's winding up petition should be dismissed.
Megan Taylor, of the disputed firm, said the resort's assertion that the firm could not be a provisional liquidator is unsustainable as Ernst and Young are not creditors of Baha Mar.
Justice Winder said the matter would be fully addressed in the afternoon session of the hearing.
The government had originally wanted to appoint liquidators from PricewaterhouseCoopers (PwC), however decided on a different course after it was revealed last month that the firm had once worked with Baha Mar general contractor China Construction America (CCA), presenting a possible conflict of interest. 
Meanwhile, on Wednesday the government's lawyer Peter Knox, QC, said Baha Mar's prospects of opening in the "foreseeable future" are unlikely on its current path.
"There's no real prospect for the completion of the project in the foreseeable future as it stands now," Mr Knox told the Supreme Court on Wednesday. "There was a prospect . . . there was a deal on the table requiring Mr (Sarkis) Izmirlian to come up with a guarantee of $200m."
Mr Knox stressed that the project needed to "be put back on track to avoid a downgrade in The Bahamas' credit rating and the employment situation".
"It is in the public's interest that this company is wound up," he added, citing the number of concessions given to the resort and its inability to open as a failure to deliver on its promised national benefits.
On June 29, Baha Mar and 14 of its affiliated companies filed for bankruptcy in a Delaware court, blaming the resort's contractor, CCA, for the construction delays that caused it to miss previous opening deadlines.
The resort also took legal action against CCA's parent company China State Construction Engineering Corporation (CSCEC) in the English High Court. 
During a separate court matter, Justice Winder rejected Baha Mar's application to have the US bankruptcy proceedings recognised in this jurisdiction. 
Meanwhile, as Baha Mar's legal battles continue, the fate of the resort's more than 2,400 employees remain in limbo. 
For more on this developing story, see Friday's Tribune.