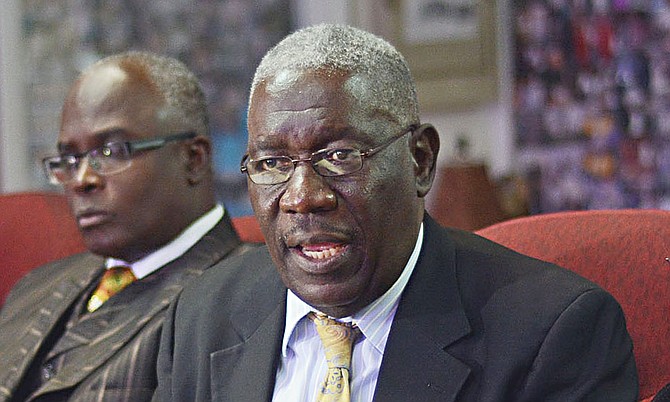 By NICO SCAVELLA
Tribune Staff Reporter
nscavella@tribunemedia.net
BISHOP Simeon Hall yesterday said he has no issue with the recent string of fatal police shootings, adding that the Royal Bahamas Police Force should "take out" suspects "with all the intensity of how people are tired of these criminals."
Bishop Hall, pastor emeritus of New Covenant Baptist Church, said while he supports the idea that "all life is precious," police should – if they are being shot at - take some of those persons who "don't give five cents about human life and human property" and "put them somewhere forever".
He said there should be "unequivocal national support" for the police in the matter.
On Wednesday, "most wanted" suspect Rony Jean was shot by police officers in a cemetery, moments after he had impersonated a police sergeant, committed a string of armed robberies and led police on a high-speed chase in the Carmichael Road area. He later died in hospital, becoming the fourth suspect since last Friday to be fatally shot by police.
Jean, a 32-year-old Haitian-Bahamian, was shot by police after he opened fire on the officers in a bid to escape capture, the RBPF said.
According to The Tribune's records, there have been six fatal police shootings so far this year.
When questioned yesterday as to whether he was bothered by the fatal police shootings, Bishop Hall said: "Not at all."
"While we support the ideal that all life is precious, we also understand that there are some persons who seem impervious to the best the community has to offer and should not be among civilized society. Criminals are the production of the society in which they grow. And since we're not hanging anybody, we should take some of these people and put them somewhere forever," he said.
"Having said that, in light of the recent shootings by the police, I'm on the side of the police. I support the police. The police not only must guard civilized society and the rest of us, but the police officer is a human being with a family who wants him to come home every day. When there are those who don't give five cents about human life and human property, the police, wherever they can, should try to arrest people. But where they're being shot at, then they should take them out with all the intensity of how people are tired of these criminals."
On Sunday, officers shot and killed two armed robbery suspects after the pair, with a third suspect, led officers on a high-speed chase through the Claridge Road area.
Police said the suspects opened fire when they got out of their car after it had crashed into a pole. Officers returned gunfire and fatally wounded two of the gunmen.
Last Friday, police shot and killed Nixon Vixamar one day before his 31st birthday while in the process of arresting him at his home in a Gamble Heights shantytown.
At the time, Assistant Commissioner of Police Stephen Dean said officers visited a home at Sunrise Road off Baillou Hill Road South shortly after 6am Friday to find a man who was wanted for several complaints of assault. According to ACP Dean, when police attempted to arrest the suspect, he began resisting violently and was subsequently shot.
The suspect was pronounced dead at the scene. However, following Vixamar's shooting, the scene reportedly turned hostile and two police cars were damaged in the process.
Earlier this week, Foreign Affairs and Immigration Minister Fred Mitchell reportedly said his office had received intelligence that some illegal communities are seeking to establish "no-go zones" in the country.
Yesterday, Bishop Hall said the government "must break the back of any group, be they Haitian, Jamaican or Bahamian who feels they are above the law, impervious to the law and they can do what they wish."