From BRENT STUBBS
Senior Sports Reporter
in Beijing, China
bstubbs@tribunemedia.net
HE maybe considered the new kid on the block, but Dennis Marshall has been round track and field for such a long time that he is taking in his new role as a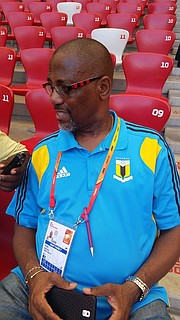 member of the Women's Committee of the International Association of Athletics Federation (IAAF) in his stride.
"It feels great. It's something that over the year, I felt that we could embrace the opportunity and put forward a run for the women's committee," said Marshall in an interview with The Tribune in the Bird's Nest stadium on Friday. "We brought together any number of persons to help and now that it's over, the work is just began. But we're prepared and we will try to do our best."
On Wednesday, during the IAAF Congress, Marshall was one of two men elected to serve on the Women's Committee. His position was sealed after 'Golden Girl' Pauline Davis-Thompson was re-elected to serve on the IAAF Council as an individual member. It was the first time that the Bahamas has had two members elected at the same time. Davis-Thompson, however, followed Alpheus 'Hawk' Finlayson, who broke ground as the first Bahamian elected to the Council in 1999.
For Marshall, attending the past five World Championship had its benefits. "We went to any number of events. It was a lot of travelling over the last two months plus," he said. "But I've been around track and field and at the IAAF level for a while, so there are a number of people that I knew and I was offered their support, which made it so much easier. You needed about 100 votes out there in order to win and you can't get them all in one place.
"But the persons who said that they would support me did and so I had the success, which is good."
The newly elected team for the IAAF won't officially take office until August 31, immediately after the 15th World Championships are completed. That's when the new president Sebastian Coe and officers will take over from Lamine Diack, who didn't seek another term in office as president.
"We haven't come together as yet as a new body, but I am hoping that we will do so before the end of the championships so that we can hit the ground running," Marshall said. "We have four years in office, so we will have to wait to see what work they put forth for us to do. Our work comes from the Council. They give us our assignment and we report back to them."
At the same time that he was running his campaign, Marshall and his brother, Winston, were assisting Davis-Thompson in her bid to be re-elected.
"Truth be told, Pauline has been my greatest supporter and inspiration in this," Marshall stressed. "She has been there with me every turn I made and I would like to thank her personally. Without her assistance, things might have gone another way. But she has been very, very supportive and I thank her."
Like Davis-Thompson, Marshall is not an executive of the Bahamas Association of Athletic Associations (BAAA), but he noted that every effort will be made to assist the BAAA and the NACAC region in getting a Women's Committee started, not only in the Bahamas, but in the region.
"The NACAC president and the IAAF president has mandated us to start a Women's Committee in our federations and so we will be trying to get that started and then start looking looking at the participation of the women across the board," Marshall said. "The minimum participation they want is about 20 per cent. We have great representation by women in a number of areas, but there are still some that are lagging behind."
Marshall, a long time employee of Delta Airlines, said he still has to get used to hearing his name called on the Women's Committee of the IAAF. But having made the commitment to serve, he's prepared to put in the time to get the job done.