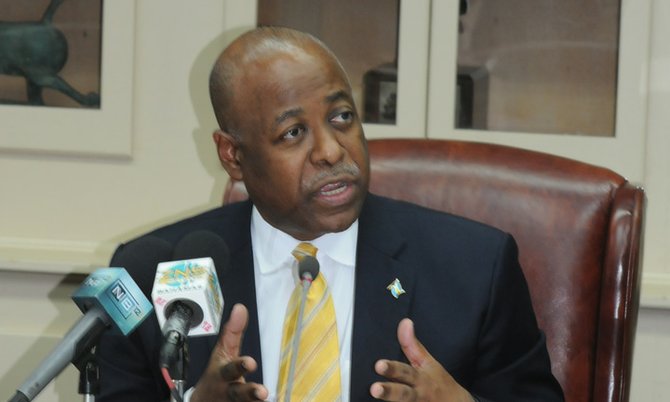 By AVA TURNQUEST
Tribune Chief Reporter
aturnquest@tribunemedia.net
TOURISM Minister Obie Wilchcombe described the decision by a major hotel brand to pull out of the stalled Baha Mar project a "big loss" as he called for all parties to stop their "legal wrangling" and work together to open the $3.5bn mega resort.
Mr Wilchcombe warned that each day the resort moved further away from a hopeful winter opening, adding that the delays and negative press will make it even harder to launch a successful marketing strategy.
However, he remained confident that the country's brand prominence will still draw a positive market response for the new development.
"Rosewood is a brand that has its own databank that would have caused occupancy levels to grow because of its branding leverage," Mr Wilchcombe told The Tribune on Friday.
"Just as Rosewood, it could be Hyatt tomorrow. We have to move with haste to stop the hemorrhage because we will be losing support and it will take even more to cause the market to respond positively. I think the reality here is it's a big loss. Rosewood is a big loss. I'm hoping there is still some negotiations that can salvage it.
"To lose such brands that we didn't have before, to have [Rosewood] that would have been a big win for the country. We have to look at SLS Lux and see where they are, and see look at Hyatt and see where they are but none of it is going to make any sense unless we resolve the issue."
Rosewood Hotels and Resorts International on Wednesday filed a motion in a Delaware bankruptcy court to terminate its licence with the development on West Bay Street.
The motion was filed the same day the government began arguments for its petition to wind up Baha Mar in the Supreme Court on the grounds that it owes the state upwards of $59m to various entities.
In response to this turn of events, Robert "Sandy" Sands, Baha Mar's senior vice president of government and external affairs, placed blame on the Christie administration saying Rosewood's motion was in direct response to government's decision to oppose the resort's Chapter 11 bankruptcy action which was filed on June 29 in the US.
Mr Wilchcombe said: "The legal wrangling that is taking place in my view is not helping the situation, it's pushing us further away from resolution. I'm adamant that [Bahamar CEO Sarkis] Izmirlian, China Export Import Bank and China Construction America must agree to sit down and deal with the issues at hand."
He said: "They have to put that on their agenda, park the egos, get to the meeting place and resolve the issue right now. It's a whole bunch of legal manoeuvering that is not benefitting anyone and it's being more detrimental to the Bahamas."
The other brands at the mega resort include the 1,000-room Baha Mar branded Casino Resort & Hotel, a 707-room Grand Hyatt, a 300-room SLS Lux, and the 694-room Meliá, which was formerly the pre-existing Sheraton.
"Every day we get further away from a possible winter opening, that is why the urgency is there," Mr Wilchcombe said.
"You don't want this to be out there with no conclusion. We're further away to get to opening, and it's going to take marketing to regain the confidence of the travelling public again.
"The glass is always half-full," he said, "but we'll just have to extend ourselves. The Bahamas is just one of the most recognised brands in the world. Our brand has become prominent, so the Bahamas brand and the new development, the beauty of the development, they will want to come.
"But if you continue to pour negative stories over it, negative stories posted everywhere and it becomes a questionable resort, then nobody has certainty."