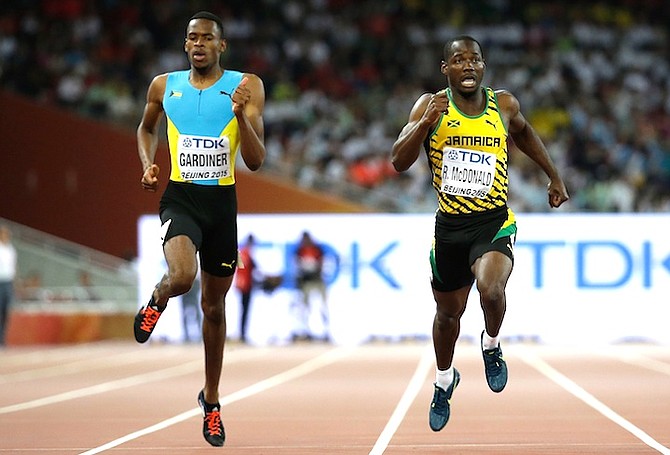 From BRENT STUBBS
Senior Sports Reporter
in Beijing, China
bstubbs@tribunemedia.net
IT SOUNDED more like a scratched record for Team Bahamas as, one after the other, Chris 'Fireman' Brown, Steven Gardiner and Michael Mathieu all struggled across the finish line in seventh place in their respective heats of the men's 400 metres semi-final at the IAAF World Championships on Monday.
On day three at the Bird's Nest, the contagious seventh-place bug struck all three as they were eliminated and will now have time to prepare for the much anticipated men's 4 x 400m relays at the end of the week.
First it was Brown, who may have closed his long and illustrious career by running in his final individual global race, placing seventh in his heat in one of his slowest times for the season of 45.07 seconds. Olympic champion Kirani James easily took the race in 44.16.
After the race, Brown began to put the rest of his future into perspective, ruling out any chance of coming back for his sixth world championships in 2017 and leaving his fate for his fifth Olympic Games in Rio de Janeiro, Brazil in the balance as he ended up tied for 18th fastest overall in the semi-finals with American Vernon Norwood.
Gardiner, the new national record holder whose times have dropped spectacularly this year, could only muster 44.98 in his race, but that was only good enough for seventh place and 16th overall. Isaacs Makwala, of Botswana, had the fastest qualifying time, winning the heat in 44.11.
Having wet his feet in his first major international event, Gardiner said he is looking forward to rebounding from his "learning experience" and turning things around next year.
Mathieu, who wrapped up the threesome's quest to make history in the final, completed what turned out to be a disappointing night as he clocked 45.63 for his seventh position as he watched Wayne Van Niekerk, of South Africa, surge to victory in the fourth fastest qualifying time of 44.31.
After opting to run the one-lap race this year instead of the half-lap because of his performances prior to the championships, Mathieu was just as disappointed as his teammates as he ended up 23rd fastest out of 24 competitors in the semis.
The good thing is all three will have sufficient rest if they are needed by the coaching staff to run the first round of the men's 4 x 400m relay on Saturday with the final bringing the curtain down on the nine days of competition on Sunday.
See The Tribune on Tuesday for a full report and photographs.