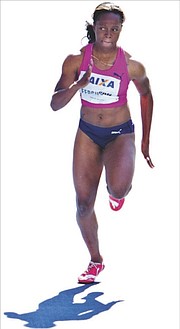 By BRENT STUBBS
Senior Sports Reporter
bstubbs@tribunemedia.net
BEIJING, China — Sheniqua 'Q' Ferguson would have liked to run faster, but she's still trying to fathom what went wrong in her first round of the women's 100 metres at the 5th IAAF World Championships on Sunday morning.
The first female on the Bahamas' 25-member team to compete in the Bird's Nest, Ferguson clocked 11.48 seconds for fifth in her heat and 35th overall in the semi-final picture as she failed to move on.
"I really don't know," said Ferguson when asked about her performance. "I really can't say what happened. To me, it looked like I got out good, but I just didn't run as hard as I should."
Ferguson, 25, couldn't catch the rest of her rivals in the race as Rosangela Santos of Brazil went on to win in 11.14, followed closely by American English Gardner in 11.16. Chisato Fukushima of Japan got third in a season's best of 11.23 and Maja Mihalinec was fourth in 11.42.
"What I did today was no way near how my track and field season has been going," Ferguson said. "After I came back from Canada (for the Pan American Games), we buckled down and everything in practice was looking promising to come up here and not even make it past the first round is no where near what me and my coach (Henry Rolle) wanted me to do."
However, with her specialty in the 200m still on her agenda, Ferguson said she's eagerly looking to improve on her dismal performance in the century because her training has been geared towards her performing very well here.
The first round of the half lap will begin on Wednesday, which should give Ferguson sufficient time to recuperate from the straight away race.