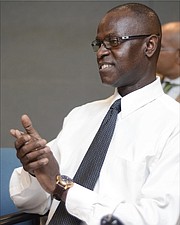 By TAVIA AUMOITHE
YONELL Justilien, a performing arts specialist at Government High School, received his $5,000 prize after being selected as the National Teacher of the Year on Friday.
Mr Justilien defeated seven other finalists, who also received cash prizes of $500 and more, and flew the flag for male teachers in a female-dominated field.
In presenting the teachers with their awards, Lionel Sands, the Director of Education, told Mr Justilien: "You are changing the lives of our children. I would also like to thank Mr Justilien simply because he is in a profession dominated by females."
In terms of being a male teacher in today's society, Mr Justilien does not think there should be a comparison between male and female educators; they should all complete the task before them. "Do your job to the best of your ability and whatever the outcome, thank God for it," he said. Of the eight finalists, six were women.
The Government High School performing arts specialist was described as having exemplified true leadership as he focuses on helping children develop in their artistic areas. "It has been my driving force, having these kids recognise their talents and they have been doing so in the past five years receiving music scholarships in that area. Just this week alone I've watched a dozen of them go off on music scholarships and it brings joy to my heart," he said.
Winning the award for National Teacher of the Year has humbled Mr Justilien, a teacher for 24 years. "I'm glad that persons recognise the work that we do in the classrooms. Too often you don't have many compliments coming from the school system so I really appreciate it. It's just a form of motivation to keep us going and shows that someone is out there watching."
The awards were presented at the Ministry of Education, Science, and Technology's 11th annual National Teacher of the Year conference. The theme of this year's competition was: "Celebrating quality teachers, recognising pathways of excellence". Mr Sands and Donella Bodie, Permanent Secretary at the ministry, presided at the conference and the award presentations.
The National Teacher of the Year finalists were Yonell Justilien (Government High School), Ramona Wells (C H Reeves Junior High School), Keniqua Burrows (L N Coakley High School), Theresa Turnquest (H O Nash Junior High School), Tarinda Thompson (C R Walker Senior High School), Samantha Wilson (Gerald Cash Primary School), Audra Tynes (R M Bailey Senior High School) and Arnold Martin (Jack Hayward Junior High School).