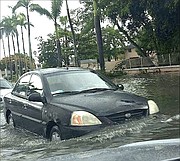 By RICARDO WELLS
Tribune Staff Reporter
rwells@tribunemedia.net
MAYAGUANA residents are bracing for Tropical Storm Erika days ahead of its projected landfall, according to island administrator Zephaniah Newbold.
Mr Newbold told reporters that residents are "aware of what is projected to come".
Meanwhile, the island's mail boat shipment scheduled for this week was cancelled, leaving many area residents without adequate supplies.
Mr Newbold noted that while some supplies were low, the island and its residents will "make do with what we have".
Speaking to the weather associated with the tropical storm, he said that the island's biggest worry is the rain attached to the weather system.
"Residents here know what small amounts of rain can do as far as flooding, so that is what everyone is working to be ready for," he said.
Mayaguana is geographically considered a lowland island.
Last year, weather associated with Hurricane Cristobal left Mayaguana severely flooded.
The administrator indicated that once an official announcement was made on Tropical Storm Erika, he and other island officials made the necessary adjustments to ensure that residents hastened storm preparedness.
"We are often on the lookout for storms at this time of the year because we don't have the best history with storms. We try to make sure everything is in order well ahead of them," he said.
Mayaguana is one of the five southern islands placed under a tropical storm alert yesterday. Those areas – including Inagua, Acklins, Crooked Island and Ragged Island – can expect to experience storm conditions, and possibly hurricane conditions, by Friday.