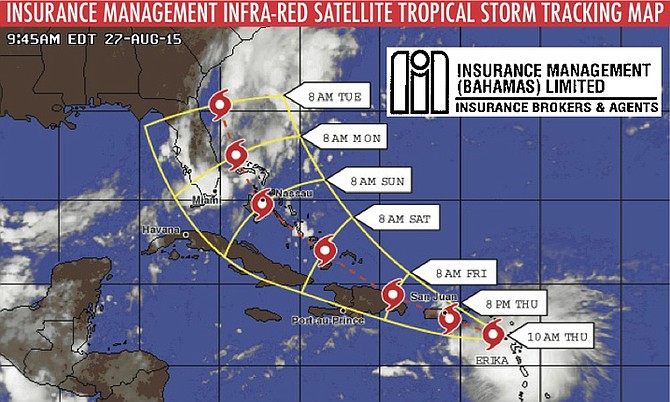 By SANCHESKA BROWN
and NICO SCAVELLA
TROPICAL Storm Erika, which has already been blamed for four deaths in the Caribbean, has gained strength and is expected to bring torrential rain and flash flooding to the southeast and central Bahamas by Saturday morning.
According to meteorologist Michael Stubbs, on Erika's current track, New Providence will be hit the hardest as the eye is expected to pass directly over the capital on Sunday.
The first effects of the approaching storm were felt yesterday, when the government annnounced the opening of public schools across the country for the new academic year has been delayed from Monday.
"We will get the worst of it on Sunday," Mr Stubbs said. "We will experience bad weather from Saturday but on Sunday we will get hit with tropical storm winds as the centre is expected to pass right over the Bahamas. Even if Erika shifts, we will still be in the radius of the storm because we will be in the northeast quadrant, which has the heaviest rain and most of the thunderstorm activity.
"Erika is expected to pass between New Providence and Andros and so we will get quite a bit of rain."
Mr Stubbs said a full moon is also expected on Sunday, which will have a significant impact on rainfall. "The full moon will make it worse because of the impact it has on currents," Mr Stubbs said.
"Erika will bring four to eight inches of rain and that within itself is bad. But we will also have rain on the ground with nowhere to go because the ground will already be soaked from the rain from (Tropical Storm) Danny."
Yesterday, a tropical storm watch was placed on the islands of Inagua, Mayaguana, Acklins, Crooked Island, Long Cay, Ragged Island and the nearby Turks and Caicos Islands. A tropical storm watch means that tropical storm conditions can be experienced in those areas within 48 hours.
A tropical storm alert is now in effect in the central Bahamas, including Long Island, the Exumas, Cat Island, San Salvador and Rum Cay. An alert means that hurricane conditions can impact those islands within 60 hours.
Erika, the fifth named storm of the Atlantic hurricane season, was about 90 miles east-south-east of Santo Domingo, Dominican Republic, with maximum sustained winds of 50mph and moving west at 17mph as of Friday morning according to the US National Hurricane Centre.
Forecasters no longer expected it would develop into a hurricane but still considered it likely that it would reach southern Florida as a tropical storm starting on Monday, said James Franklin, a meteorologist with the US National Hurricane Centre in Miami. It was also considered possible that the storm would dissipate as it passes over the mountains of Hispaniola, the island that includes the Dominican Republic and Haiti.
"It is unlikely at this point to become a hurricane," Chris Landsea, another meteorolgist, said. "The main threat will be rainfall. You've seen some horrific rainfall in the Caribbean with what happened in Dominica."
The Associated Press reported yesterday that four people in Dominica have been killed in the flooding and mudslides created by Erika's torrential rain, with 15 inches dumped on the island. A blind elderly man and two children were killed in southeastern Dominica, and another man was killed in the country's capital, Roseau.
Several people remain missing and at least 20 homes have been destroyed in the storm.
Education Minister Jerome Fitzgerald said yesterday that due to the anticipated arrival of the storm, all pre-school, primary, junior and senior high school students will report for the first official day of school on Monday, September 7, a week later than scheduled.
However, he said all administrators, teachers and custodial staff should report for duty on Wednesday, September 2. Additionally, all 7th and 10th graders attending junior and senior high school respectively for the first time should report to school on Thursday, September 3, for orientation.
All 8th and 11th graders will report to school for orientation on Friday, September 4, he added.
"Once the weather system passes over and we are able to make assessments, we will provide further information," Mr Fitzgerald said yesterday. "We will be certain to keep administrators, teachers, students, parents, and the general public abreast with any new developments as they arise."
The Anglican Central Education Authority said that all schools under its remit would open on Wednesday, September 2 for classes.