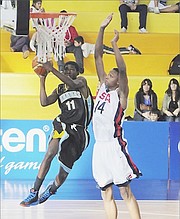 By RENALDO DORSETT
Sports Reporter
rdorsett@tribunemedia.net
THE latest in the line of students to capitalise on the exchange programme between one Bahamian institution and a prestigious Canadian boarding school, Livingston Bromwell has been granted what his family called "an opportunity of a lifetime."
Bromwell successfully made the transition from Noble Preparatory Academy and has been granted a scholarship to attend Ridley College in St Catharine's, Ontario, Canada this fall. He was recently the latest in the line of NPA students to participate in the exchange programme between the two institutions, which acts as the precursor to the possibility of an athletic scholarship following its conclusion.
Ridley is one of the leading private boarding and day university preparatory schools in the country.
"The exchange programme experience for me, it was about getting adjustment in every aspect. Just getting used to the environment, playing basketball, socially and the work load. Just going to the classrooms, walking around the campus and seeing the magnitude of everything is a lot to describe and take in so it was a definite adjustment at first. Once I did everything just clicked for me," he said in an interview at the NPA campus.
"It made me grow. I did things I thought I could not do. Something like skiing was a big thing for me. It was something I never thought I would be able to do and I can't wait to go back. Even the friends you meet, the different cultures you're exposed to, it all helps you to grow and I'm blessed and thankful for it. You learn a lot from different students. Just living there, being exposed around others, it helped me with my socialising skills so it really was an all around change.
Ridley is one of the oldest private schools in Canada and has the largest boarding programme in Ontario, with students representing over 35 countries.
"NPA really set me on a good course to take on whatever they would throw at me. My teachers at NPA prepared me to succeed so I have to thank them for laying that groundwork. Some of the things we did at Ridley I already covered here at NPA so I was ready and I was sharp. NPA gave me the basic tools and I was ready to get things done," Bromwell said.
"It's hard and, if you're not built for it and not prepared for it, it will be difficult. It's all about personal accountability and wanting better for yourself. The guys that came before me really set the bar. We just continue to take advantage of the opportunity. Any student who wants to do the same has to show commitment at NPA first. Coach can set you up to have the opportunity but it's not an easy transition. It takes effort."
Known for his prowess on the basketball court, Bromwell was also one of the country's premier high jumpers at the junior level. He was a two-time member of the Bahamas' junior national basketball teams and CARIFTA track and field teams.
In addition to his improvements in the classroom, Bromwell noted that he was physically prepared to compete in the field of play as well.
Bromwell's tenure at Ridley College came on the heels of the successful experience Shamar Burrows had in the exchange programme in 2013.
Burrows was able to earn a full athletic scholarship and Bromwell said he looks for the programme to become an annual tradition for NPA students.
They led the Tigers to face St Michael's College for the Conference of Independent Schools Athletic Association (CISAA) title.
Earlier in the season, the pair led the Tigers to the Upper Canada College Invitational tournament championship.
"From the first game I had a double double. At first, going to Ridley I accepted it was Shamar's team, but with him being injured the coaches thought I should step up. At NPA I was the man on the team in terms of handling the ball and everything else, grabbing the ball off the rim and went coast to coast, but when I did that at Ridley, the coaches really chastised me and got after me. They told me to rely on the guards and the rest of my team rather than trying to take on too much," Bromwell said.
"I was really thankful for that because it forced me to work on my post game and eventually that's where most of my points came from, in the post, so it helped my game to develop and mature."
As he prepares to head back to Ridley, Bromwell said he spent the summer working on his game to return as a better student athlete.
"I went to Canada for a few weeks to play AAU ball with Shamar. We put up about 1,000 shots per day so I would say we would be prepared for this season," he said. "The team is pretty sound again this year, we all have to carry our own load and I think we will be very successful again this year."
Livingston's mother, Ida Mae Bromwell, said her older sons, former players under coach Bullard, were the driving force behind the decision to choose NPA.
"I thank coach Bullard for instilling in him accountability, believing in yourself and knowing that if you want something, you have to go after it and get it. My sons asked me to give him a chance with Geno and I've seen the tremendous change and growth over the years. When you think about Noble you think about one of the best private schools. It is not just about sports, it is about education and bringing young men into their full potential of where they are to be. Looking at where Livingston has come from it has been a tremendous blessing," she said. "I think he's prepared. At first I was a bit timid to think about him leaving and wondering how he would make it, but he has matured and he has shown the maturity and responsibility to have me convinced and confident in him being on his own."
With her son ready to make monumental steps academically and athletically, Ms Bromwell said she would recommend parents of prospective students to choose the budding programme.
"If you are looking for your young men to be what God has called and designed them to be, Noble is an important step," she said. "You have men with integrity teaching them to believe in themselves. So I would advise parents, if you are looking for a school, not only with a strong athletic background but educationally, they can check Noble. I would recommend it any day."
Geno Bullard is the founder and serves as the president of NPA.
One of the most successful basketball coaches in Bahamian high schoool basketball, he made the transition to academic administration when he founded the school just five years ago.
Bullard is also the international recruiter for the entire Caribbean region for Niagra College.
NPA has academic ties with Ridley, Niagra and Brock University.
"It's important to show a track record. First coming here, from being a shy kid, not academically sound but a superstar athlete at the junior level, academics was not on the priority list for Livingston, but he was inspired to want more," Bullard said. "I admire that because you have a lot of students and a lot of young men that would see an opportunity but are not man enough to grasp it. He was a part of a dynamic duo with Shamar Burrows but was able to maintain a 3.0 GPA. It speaks volumes to the potential that he has as a complete student and as a complete young man. They were overwhelmed at his performance and they want him to join the programme in September. We are just a transition point, we help them to get to the next point and now they have to take it the rest of the way. I'm proud of him, we have a lot of young men that come through, he has sifted his way through and has risen his way to the top.
For those interested, Bullard encourages them to visit their website: www.npabahamas.com, check out their Facebook page: Noble Preparatory Academy Bahamas or call 676-0055 for more information.