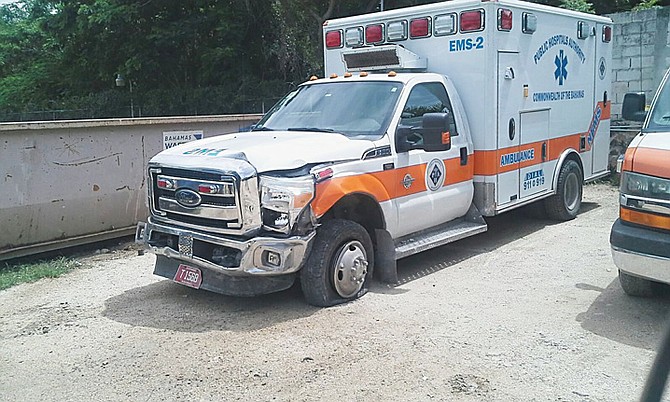 By SANCHESKA BROWN
Tribune Staff Reporter
sbrown@tribunemedia.net
POLICE are on the hunt for a man who stole a Public Hospitals Authority ambulance and crashed it into two vehicles before slamming into a home Saturday night.
Assistant Commissioner of Police Stephen Dean said Emergency Medical Services personnel responded to a call for emergency assistance for an elderly woman around 7.30pm in Gamble Heights when the ambulance was stolen out of the patient's driveway.
"Two ambulance attendants responded to a call at the home.
"When they went inside to the patient, a young man jumped into the ambulance and sped off," ACP Dean said.
"A short while later he collided into two
vehicles but still continued to (drive). The ambulance finally came to a stop when it collided into a home causing significant damage. The suspect then fled the area on foot."
In a statement, the PHA said the ambulance, which is valued at $123,000, incurred damage to the front driver's side.
"The PHA is confirming that an ambulance dispatched to a residence in Joan's Heights was illegally commandeered by an unknown male shortly after 8pm (Saturday) evening," the PHA said.
"According to reports, the vehicle was stolen after the two emergency medical technicians exited and had entered a home in the area to provide assistance to an 82-year-old resident of Tarpon Drive," the statement said.
"The discovery was made shortly after the assessment of the female patient and as one crew member was returning to the vehicle to retrieve an item. It was at that point that a neighbour informed the EMT that a male had 'jumped into the vehicle and drove off.' Another ambulance was dispatched to take the patient to hospital. Police discovered the stolen ambulance one block away after it crashed into the wall of a residential property. Damage was also reported to two vehicles parked in the vicinity of the property. The emergency vehicle was damaged at the front on the driver's side. The ambulance, which is the newer type one model in the fleet of PHA emergency vehicles, was commissioned in 2012 at a cost of approximately $123,000."
Investigations continue.
Anyone with information on this incident is asked to contact police at 911 or 919, the Central detective Unit at 502-9991 or Crime Stoppers anonymously at 328-TIPS.